Riyadh Air chief executive Tony Douglas expects the ambitious start-up to be connecting the Saudi Arabian city to every major capital city in Europe as part of its aim to serve over 100 destinations by 2030.
The Saudi carrier will launch operations in 2025 and Douglas says it expects to start detailing network plans next year. "We will probably get to first quarter of next year, as we start getting closer to ticket window for the widebody, to explain what the network profile looks like.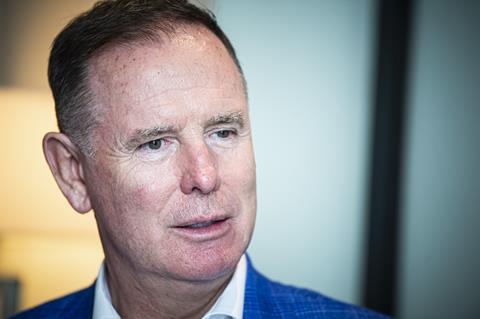 Without specifying destinations, Douglas adds: "The Riyadh Air brand will be a high-end, full-service carrier brand and therefore synonymous with that.
"It's not going to be terribly difficult to work it out. In simple terms, it will probably be every major capital city in Europe, plus the obvious USA touchpoints – particularly on the eastern coast. We'll be talking about all the major capital cities in the far east, and then coming progressively back to the Middle East."
Douglas was speaking at a briefing in Paris, where the carrier has a Boeing 787-9 showing its livery for the first time on the static aircraft display.
Riyadh Air already has an order for 39 Dreamliners and options on another 33. It is also negotiating a large narrowbody aircraft order, though that will not be announced at Le Bourget.
"The reason why we went widebodies first is in terms of connecting the Kingdom to the world, the biggest gaps are on those kinds of segments," says Douglas.
"The 787-9 deliveries start in 2025. We've got a delivery schedule with Boeing and the trick with this over the next two years is literally every week, every month… is making sure they continue to deliver on all of those, because as we get them, they will be going straight into service."