Cranfield Aerospace Solutions (CAeS) believes it can become the first company for nearly a half century to develop a new commercial aircraft in the UK if its plans for a clean-sheet hydrogen-electric-powered design come to fruition.
The Cranfield University spin-off is already working on the conversion of a Britten-Norman BN2 Islander to run on fuel cell power using gaseous hydrogen under the UK-government backed Project Fresson.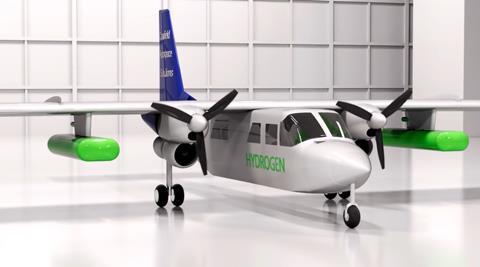 Service entry for the Islander conversion is anticipated in 2025, but CAeS is already progressing its next steps.
A second-phase project will see the modification of an existing 19-seat aircraft with a liquid hydrogen fuel cell-based powertrain, which is set to arrive in 2027. That will be followed in 2029 by a clean-sheet design, again sized to carry 19 passengers.
"That will be the first new aircraft to be designed and manufactured in the UK for probably four decades," says Paul Hutton, CAeS chief executive.
"That's crazy – if any country should be confident and capable of making aeroplanes it's the UK."
Hutton argues that the development of electric propulsion technology, and the cost-savings and operational benefits it promises, has "given us an opportunity to re-enter that market".
"Suddenly there is the window of opportunity for the UK to take of its whole aircraft destiny – to not just be a 99% aerospace supply chain industry," he adds.
Analysis of several turboprop types is under way in partnership with an undisclosed US fractional operator to determine the best candidate aircraft for the phase two conversion programme.
"We are trying to get their understanding of the market to make sure we choose and aeroplane that is the most commercially viable," says Hutton; a workshop will be held with the operator at the Farnborough air show on Thursday.
CAeS has already been working with UK budget carrier EasyJet to study the requirements of a next-generation aircraft in passenger operations; another "large airline" is also lined up to come on board shortly.
"What we are seeing is increasingly large airlines that you think wouldn't be interested in this segment of the market but which want to be ready for when the larger [zero-emission] aeroplanes arrive."
The second airline partnership is likely to see the carrier order a number of Britten-Norman conversions, and its future plans will also help determine the second modification programme, Hutton adds.
CAeS in March attracted a £10.5 million ($12.5 million) investment from Safran Corporate Ventures and HydrogenOne Capital Growth as part of a Series A funding round. However, further financing under that same round will be closed by mid-August, almost doubling the money pledged. Series B funding will then kick-off in September, taking six to nine months to complete, Hutton adds.
No firm figure has yet been determined for the Series B investment, he says, but it must be sufficient to finalise the initial Fresson programme, reach the preliminary design review stage on the follow-on aircraft, and the concept definition of the all-new model.
Hutton sees CAeS' role as an overall aircraft integrator rather than a technology developer in its own right and has signed agreements with potential partners on the project.
Despite the Safran investment, there is "no obligation" to use equipment from the French aerospace giant in any of its programmes, stresses Hutton.

Dominic Perry is deputy editor of Flight International but also contributes extensively to flightglobal.com. Although specialising in the coverage of the helicopter industry, he has written on most topics in aerospace – be they commercial, defence or business aviation. In addition, there has been an increasing focus on the decarbonisation of the industry and zero-emission flight initiatives.
View full Profile