Airbus is to start test flights with a hydrogen-burning glider this winter in order to assess the potential emissions and contrail effects from a scaled-up hydrogen-fuelled engine.
Two modified Schempp-Hirth Arcus-J gliders – one fitted with a bespoke gaseous hydrogen combustion engine and the other with a conventional kerosene engine – will be flown over North Dakota for the 'Blue Condor' project, intended to provide a quick insight into the impact of future propulsion technology.
The glider would not use the hydrogen engine for thrust, says Sandra Bour Schaeffer, the chief of Airbus's UpNext innovation arm. It would be towed and the engine lit at altitude, with a chase aircraft from German aerospace laboratory DLR in trail to measure the exhaust composition.
Although hydrogen engines produce no carbon dioxide, the tests will provide data about expected higher water-vapour content – perhaps 2.5 times – as well as nitrous oxide levels, and this will be extrapolated to the scale of a large zero-emission aircraft.
"This is one important step in getting a better understanding and feeding our models," says Schaeffer.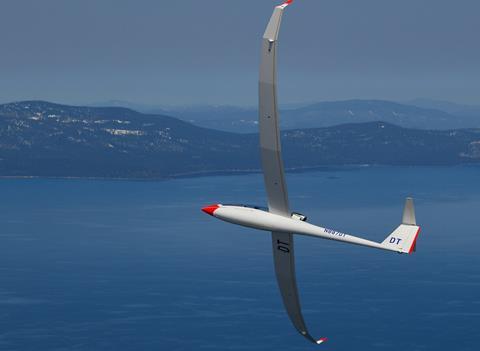 One of the glider's two pilot seats will be removed to fit a hydrogen tank, which will carry fuel for a 1h measurement burn, both in climb and at typical cruise levels of 35,000ft.
Glider modification and the test flights will be conducted by atmospheric science research company Perlan Project.
"A glider is the perfect aircraft to carry the engine," says Airbus chief technical officer Sabine Klauke, pointing out that it has no emissions of its own to interfere.
Initial tests will begin towards the end of this year and the campaign will conclude by spring 2023. Klauke says the information will assist with the process of shaping future engine designs to optimise and regulate hydrogen combustion, while mitigating undesired emissions.