Airbus has received the first A321XLR fuselage sections to be manufactured by aerostructures supplier Stelia Aerospace.
Stelia is responsible for the design and production of all forward fuselage sections of the long-range aircraft, including the cockpit, nose-gear bay, forward passenger exit section, and passenger cabin barrels.
Three of the six sections have been handed over by Stelia following manufacture at the company's French facilities in Meaulte and Rochefort.
"We have successfully completed the challenge of delivering in extremely short lead times," says Stelia chief Cedric Gautier.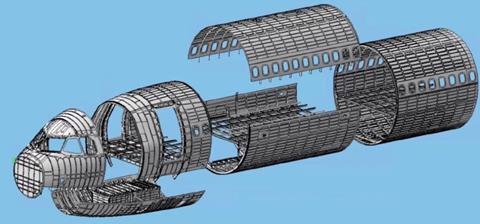 Airbus is intending the A321XLR – which will have a range of 4,700nm (8,700km) – to enter service in 2023.
Stelia describes the twinjet as a "real game-changer" for the long-range market.
"The A321XLR requires modifications on all the sections of the front fuselage, with reference to the previous versions, regarding the structure and the equipment support," adds the firm.
Several Stelia divisions and plants have contributed to the sections, including operations in Tunisia and Morocco which have provided parts and sub-assemblies.
Stelia is also developing a new seat for the 'Airspace' cabin interior on the A320 family, including the A321XLR. The 'Opera' seat, it says, will offer a comfort level "equivalent to that of a widebody".