Brussels Airlines is to introduce three Airbus A320neos in 2023, following an allocation decision by its shareholders.
The Belgian airline currently operates an all-Airbus fleet comprising 30 conventional A319 and A320 twinjets, as well as eight long-haul A330-300s.
But it will take three A320neos after Lufthansa Group and SN Airholding approved the fleet modernisation.
"It's the very first time in the history of Brussels Airlines that the company will phase in brand-new aircraft, coming right from the manufacturer," says the carrier.
The jets will be used to replace older A319s.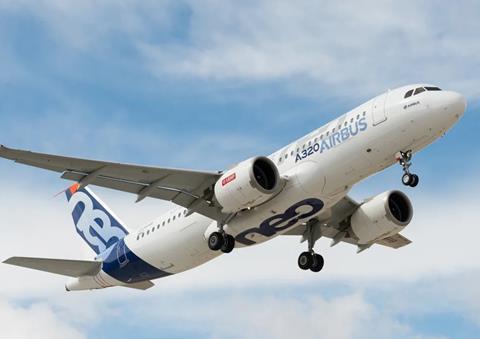 "As a responsible airline, with ambitious sustainability targets, it's crucial for us to continue our path of further modernising our fleet," says chief executive Peter Gerber.
The A320neos will be equipped with CFM International Leap-1A engines, continuing the relationship with CFM which powers the carrier's single-aisle fleet.
Chief operating officer Edi Wolfensberger says the acquisition will bring the company closer to its aim of a "fully-harmonised" A320 fleet, reducing the complexity of its operation.
"Crews are able to operate the new aircraft after a short familiarisation, this makes the integration seamless," he adds.
Brussels Airlines says the A320neo will provide 11% lower fuel burn and halve the noise of the A319s they replace.