UK budget carrier EasyJet is aiming to raise £400-450 million through issuing new shares equating to just under 15% of the current share capital.
Up to 59.54 million shares will be placed through an immediate accelerated bookbuilding process.
EasyJet has started restoring flight operations after an 11-week grounding.
It says this is shorter than the three-month grounding for which it has expected, under its latest calculations, a cash-burn of £1 billion.
EasyJet says it has drawn on a $500 million credit facility, £600 million in UK government coronavirus corporate funding, and £400 million through two new loans.
It has also obtained £301 million from sale-and-leaseback transactions, and expects another £200-350 million from similar agreements.
EasyJet's cash position, as of 22 June, stood at £2.4 billion.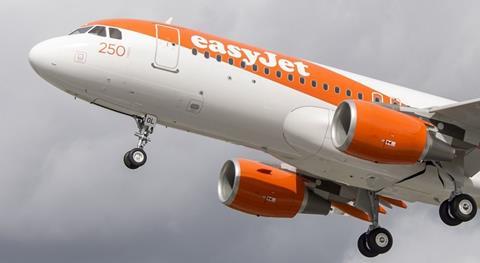 Over the first half of its financial year the company made a pre-tax loss of £353 million, compared with the previous interim loss of £272 million. This loss included a charge of £160 million relating mainly to ineffective fuel hedges.
The company's passenger numbers fell by 7.4% to 38.6 million, although coronavirus only affected the last couple of weeks of the six-month period.
But revenues increased by 1.6% to £2.38 billion, assisted by German network improvements, the bankruptcy of Thomas Cook Group and other matters.
EasyJet expects its fourth-quarter capacity – for the July-September summer period – to be around 30% of the pre-crisis planned level.
But it has refrained from offering guidance on its financial performance over the second half of the year.
Chief executive Johan Lundgren says the carrier is continuing efforts to "strengthen" its balance sheet.
The new share placing, the company states, will "further enhance" its liquidity position and underpin its balance sheet, increasing the cash balance to around £3 billion.
This will provide a "significant liquidity buffer", allowing the company to work through any further grounding scenarios or a "protracted recovery", it says.
Around half the airline's fleet will remain unencumbered, it adds, allowing it to access further funding if necessary.
EasyJet had obtained shareholder approval in February to issue shares equivalent to some 10% of the capital.
But it says that, given the "unforeseen and exceptional" circumstances, it is expanding the share issue, which means a portion will be conditional on a further shareholder clearance through a meeting set for around 14 July.