Russian regional carrier Polar Airlines is to acquire a pair of Bombardier Dash 8-300 turboprops, its first of the type, to support modernisation of its Soviet-era fleet.
It states that it is purchasing the two 50-seat aircraft from a Japanese supplier.
"[Polar's] fleet will be replenished with a completely new type of aircraft for the airline," the carrier adds.
The operator identifies the first as the Russian-registered airframe RA-67261, which is owned by Japan's Jione Financial Service.
It was originally delivered to African carrier Air Senegal International in 2001, subsequently passing through the Dutch and Canadian registers, before being introduced to the fleet of Russian operator Aurora in 2012.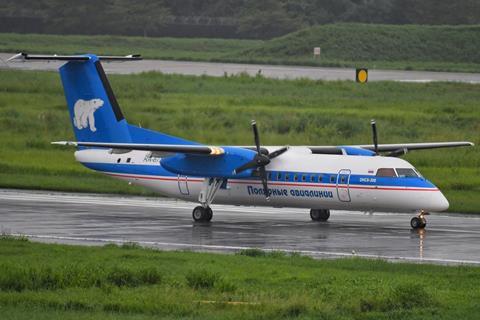 Polar expects the first Dash 8 to be transferred by early September from Yuzhno-Sakhalinsk to Yakutsk once the agreement is finalised, and deployed on scheduled services alongside its Antonov An-24s and An-26s.
The second aircraft will arrive at the end of the year, it says.
Polar Airlines has been training crews to operate the type at a centre in Madrid, with personnel support from Siberian carrier Yakutia which operates Dash 8s on several regional services.
"[This aircraft] has proven its value in the far north," says Polar, which says it intends to acquire three Dash 8-300s by 2024.
Polar Airlines has 61 aircraft in its fleet, including 15 An-24s and An-26s, five Let L-410s, 25 Mil Mi-8 helicopters, and a number of smaller types, among them the An-2 and An-3.
It has previously signed to take three of the new Ilyushin Il-114-300, an upgraded version of the Il-114, which is still undergoing certification.