Qatar Airways is to start introducing its own Boeing 737 Max jets, to support capacity growth in short-haul sectors.
The airline says it recently had an "opportunity" to acquire a "small number" of 737 Max 8s, without elaborating on the details of the agreement.
Qatar Airways says the twinjets – powered by CFM International Leap-1B engines – will be added to its fleet "in the coming months".
They will provide capacity to "help drive future growth", particularly in short-haul markets, it states.
"As a rapidly growing airline, these efficient and modern aircraft are a welcome addition to the narrowbody fleet to support our sustainable expansion plans," the carrier adds.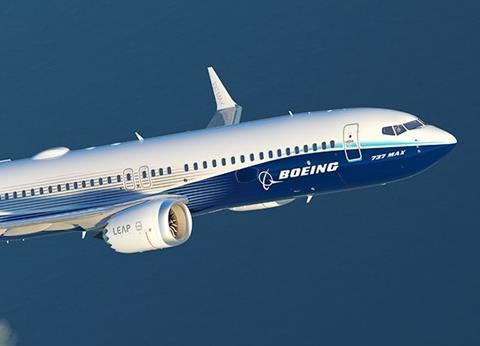 One aircraft – MSN43342 – has been captured in Qatar Airways livery carrying out flights in the USA with a temporary registration.
Cirium fleets data lists this aircraft and a second, MSN43329, as due for delivery to the Doha-based airline. A source familiar with the situation says the aircraft were originally allocated to Russian carrier S7 Airlines.
It also shows three other Max 8s in storage, although these are all Irish-registered jets which were originally delivered to Qatar-linked Air Italy several years ago. The airline ceased operations in 2020.
Qatar Airways has an agreement with Boeing to take 25 of the larger Max 10 variant.
It had been scheduled to introduce Airbus A321neos to its fleet but the carrier's legal dispute with the airframer over A350 skin-paint deterioration has ultimately resulted in deliveries being deferred to 2026.