Scandinavian operator SAS is preparing to re-open 180 routes for the summer within the Nordic region and Europe, believing that vaccination programmes are set to ease travel restrictions.
The airline is continuing to suffer heavily from the air transport crisis, turning in a pre-tax loss of SKr1.94 billion ($234 million) for the first quarter to 31 January 2021.
Outgoing SAS chief executive Rickard Gustafson says there is a "pent-up need to travel" and that the airline is preparing for the possibility that vaccination momentum will result in the gradual lifting of travel bans, with demand returning to 50-60% of 2019 levels by September-October.
"A high vaccination rate is the most decisive factor for the authorities' willingness to ease travel restrictions," he says.
"SAS is monitoring global vaccination developments closely in order to be ready to quickly increase capacity when conditions permit."
Gustafson says the demand situation is likely to remain "highly limited" for the immediate future but expects demand to return to "more normalised" levels next year.
"The passenger mix will have an increased share of leisure travellers in the future, which places even greater requirements on flexibility and seasonal adaptations to our operations," he adds.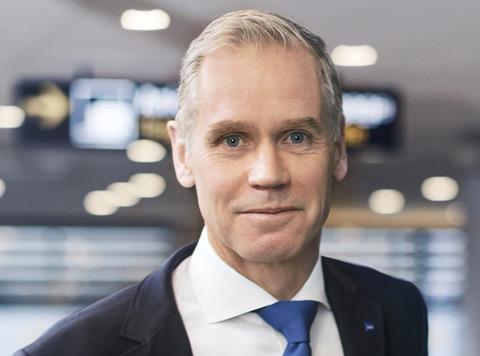 SAS's first-quarter revenues remained 76% down on the last year's figure, although Gustafson points out that it offset the "majority" of the lost revenue by cutting costs by 60%.
The company's net loss of just over SKr2 billion for the quarter, part of its weakest season, was more than double the previous SKr861 million deficit.
SAS's liquidity at the end of January stood at SKr4.7 billion, down from the opening balance of SKr10.2 billion, with "significant" refunds of SKr2.1 billion having an impact. It says it has strengthened its financial position with a NKr1.5 billion ($179 million) credit facility guaranteed by the Norwegian export credit agency GIEK.