SAS has shifted deliveries of a pair of Airbus A350-900s due to arrive in the current fiscal year, shifting them to fiscal years 2022 and 2023 instead.
It has also deferred introduction of eight Airbus A320neos, pushing back the delivery of two batches of four aircraft each by a couple of years – one batch to fiscal 2024 and the other to fiscal 2025.
But the arrival of two remaining Airbus A321LRs, due in fiscal 2021, has not been changed.
"We worked hard during crisis to manage timing of deliveries," says new SAS chief financial officer Magnus Ornberg, recruited from Saab in October.
"This will reduce our capital expenditure need for 2021-24."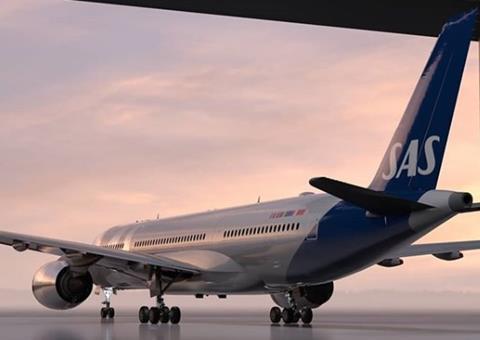 Speaking during a full-year briefing on 3 December, Ornberg added that the changes will mean the carrier is "better aligned" to the recovery in demand.
At the end of the previous financial year, in October 2019, the airline had 63 aircraft on order including 52 A320neos, three A321LRs and eight A350s.
That figure has been reduced to 45 aircraft as a result of 2020 deliveries. SAS is still awaiting 39 A320neos, two A321LRs and four A350s.
SAS chief executive Rickard Gustafson says the airline is accelerating the withdrawal of 15 older Boeing 737s, plus five Airbus A340s and an A330.
He says the carrier has obtained $29 million from the sale of three 737s for cargo conversion, and adds that it is "looking to do a similar thing with a small bunch of additional aircraft", indicating that it is assessing sales of up to five more 737s.
While SAS has plans to replace 737s as part of a mid-sized fleet renewal, this plan has been "put on ice", says Gustafson, because the need is "not urgent".
But he stresses that the renewal remains part of a strategy to separate the mid-size transport, previously integrated into its 737 operation, into a new competitive production unit.