Wizz Air chief Jozsef Varadi is warning that the company is likely to turn in a net loss for 2021-22 unless there is an "accelerated and permanent" lifting of pandemic restrictions.
Varadi gave the outlook as the airline unveiled full-year net losses for 2020-21 of €576 million ($704 million), as revenues fell 73% to €739 million.
He is "cautiously optimistic" about the company's recovery, despite its being delayed by restrictions, he believes investments in the fleet and network over the last 12 months will "soon yield results".
But while he foresees a "strong" trading environment for 2022-23 – and the carrier is planning to operate its full capacity at that point – he says the current fiscal period will "continue to be a transition year" and he expects another net loss unless the process to withdraw restrictions quickens.
Wizz plans to deploy some 30% of its capacity in the April-June first quarter and, subject to the restrictions, the airline says it is resuming "all cash-contributing flying". It says second-quarter peak capacity "may exceed" the pre-crisis level of 2019 and that this trend might continue from the fourth quarter onwards.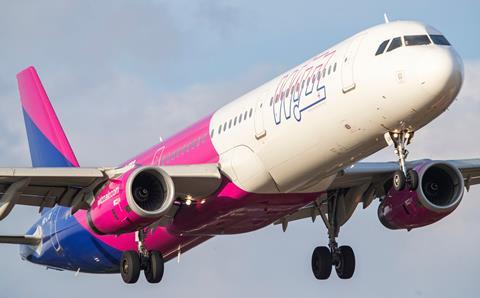 "Whereas the recovery pattern continues to be difficult to forecast, the trends are encouraging and we are ready as ever," says Varadi.
"We have prepared the company to be an even more formidable player and to take advantage of the next phase of market opportunities that await post-pandemic."
Wizz puts its underlying full-year net loss, to the end of March 2021, at €482 million, after accounting for a €93.6 million exceptional impact from ineffective fuel hedges.
"We stayed in control of our cost structure, preserved our cash position and maintained our investment-grade balance sheet," says Varadi.
Wizz increased the number of bases – planned and operational – from 25 to 43.
"Agility has been key in navigating the year," says Varadi. "We continuously realigned capacity with ever-changing restrictions, ramping up to 80% capacity in the span of weeks over summer 2020 and then down to 20% only weeks later."
Wizz puts its cash-burn for the final quarter of 2020-21 at €84 million and it ended the fiscal year with total cash of €1.62 billion.