French start-up Elixir Aircraft has received European type certification for its Elixir two-seat piston single, with the award on 20 March coming nearly five years after it launched the carbonfibre type.
This is the first member of the Elixir family, which the firm, based in Perigny in the west of France, has designed to fill a gap in the flight-training and owner-flyer markets for a modern but simple light aircraft with low operating and maintenance costs.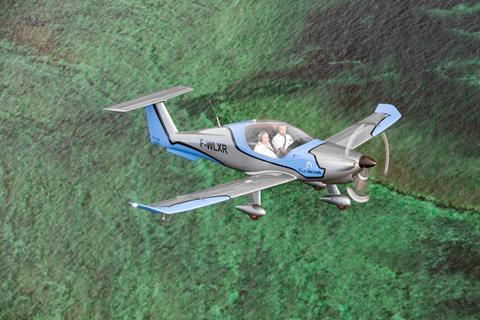 Elixir says in contrast to traditional light aircraft, which are made up of thousands of parts, the main components of the Elixir are monocoque structures. The wing is one single part – no spars, no ribs, no stringers – as is the fuselage, the ailerons and the horizontal tail.
The Elixir costs up to €40 ($44) per hour to operate including fuel and maintenance, can carry a payload of 280kg (617lb) and is capable of the full range of training provision, including ab initio and commercial pilot licence programmes.
The Rotax 912iS-powered single features a bespoke Garmin G3X cockpit and is equipped for visual flight rules operations only. It has a cruise speed of 130kt (240km/h), a range of 1,000nm (1,850km), a maximum take-off weight of 545kg, with a useful load of 280kg. It also has a 94 litre (25USgal) fuel capacity, giving it an endurance of up to 6h. For added safety, the Elixir is fitted with an emergency parachute system, manufactured by BRS.
Further versions are planned, including a model equipped with a more powerful 140hp (104kW) 915iS turbocharged engine, and an instrument flight-rules variant.