The MRO unit of Korea Aerospace Industries (KAI) and Airbus have signed a memorandum of understanding (MOU) for support of the CN235 and C212 tactical transports.
The agreement between Korea Aviation Engineering & Maintenance Service (KAEMS) and Airbus will see the South Korean firm gain the capability to support both types, says KAI.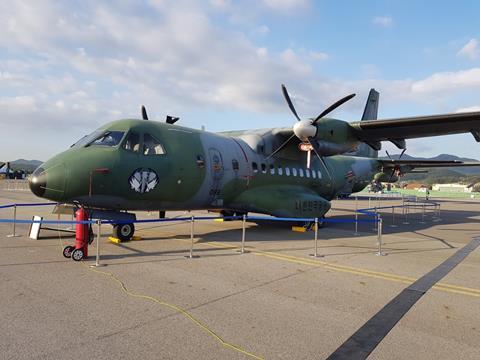 The agreement focuses on C212s and CN235s in service in Korea. In addition, should an upgrade programme for Republic of Korea Air Force (ROKAF) CN235s move forward, the two companies plan to strengthen their partnership to address this opportunity.
"Through signing the MoU and cooperation with the world-class company, KAEMS will be able to provide systematic and quality maintenance services to customers," it says.
"Based on the gathered maintenance know-how thus far, we believe this cooperation will generate synergy effects in the MRO industry."
Cirium fleets data shows that there are 24 CN235s operating in South Korea, of which 20 are with the air force and four with the coast guard. In addition, the coast guard has a single C212.
Of the CN235s, 12 were produced by Airbus Defence & Space and 12 under licence by Indonesian Aerospace. Eight ROKAF aircraft and all four coast guard aircraft came from Indonesian Aerospace.
Established in 2018, KAEMS provides MRO support for commercial types such as the Boeing 737 and Airbus A320 family. It also supports military types such as the KAI KUH-1 Surion, Airbus Helicopters H225, and Lockheed Martin F-16 and P-3 Orion.