Lufthansa Group carrier Austrian Airlines is to halve its Boeing 767 fleet and withdraw all seven of its Airbus A319s as part of a strategy to adjust to reduced demand in the wake of the coronavirus crisis.
Austrian had already been planning to remove 18 Bombardier Q400 turboprops by 2021, and increase the number of A320s by 10 – measures which would have taken the airline's overall fleet down to around 70 aircraft.
But it has revised its strategy following the coronavirus outbreak and instead envisions a more conservative fleet of 60, amounting to an overall capacity reduction of 20%.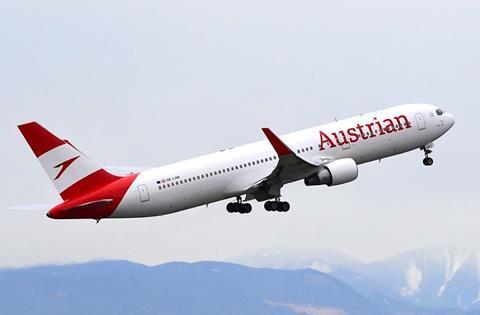 By 2022 it will remove three of its oldest 767-300ERs – the 1991-92 airframes OE-LAT, OE-LAW and OE-LAX, all powered by Pratt & Whitney PW4000 engines – as well as its entire batch of A319s.
The seven A319s, fitted with CFM International CFM56 powerplants, date from 2004-05 according to Cirium fleets information.
Austrian will retain three 767-300ERs, which are all 1998-2000 airframes, as part of a long-haul fleet of nine. The airline has six Boeing 777-200ERs.
"It is our responsibility to make Austrian Airlines fit for the future after [the coronavirus crisis]," says chief executive Alexis von Hoensbroech.
"We want to retain our long-haul hub, even if we have no other choice for the time being but to adapt to the somewhat smaller market."
The carrier stresses that it is aiming to retain as many of its 7,000 personnel as possible, and is holding talks with staff representatives.
Austrian is forecasting a 25-50% fall in demand in 2020 and that this figure will still be down by 25% on pre-crisis levels at the end of 2021 – with the earliest full return in 2023.