Thousands of would-be professional pilots who have paid big money to win a commercial pilot licence find they cannot get a job, even in good times when the airlines are hiring. The licence itself is an essential prerequisite, but beyond that, passing an airline acceptance procedure is the real gateway to a piloting career.
In the European marketplace, an experienced training industry watcher has estimated the number of jobless pilot licence-holders the system has produced over recent decades is about 7,000. Whatever the precise figure, it is a significant number.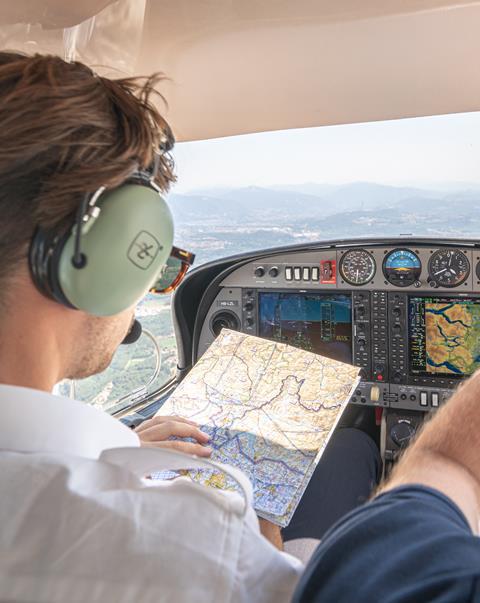 Some training organisations, acknowledging that the present system for attracting trainees is failing a sizeable percentage of the applicants, are developing more comprehensive approaches to the whole issue than just supplying flying lessons.
A licence never did guarantee a job, and it does not do so today either. Naturally, the training industry does not go out of its way to draw attention to the indisputable risk of expensive failure. Meanwhile, the best marketeer for aspiring aviators is the much-touted popular belief – or perhaps cliche – that if somebody wants something enough, they can achieve it.
There are ways of avoiding such a wastage of people and resources. If trainee pilots are unlikely to pass an airline selection procedure, their instructors will have a pretty shrewd idea of that emerging truth by the time they have 20 or 30 hours in their log book. So, they could warn them at that stage – and often do. There is a powerful temptation, however, for both the student and the flying school to give in to optimism, keep on training, and keep the money rolling in.
To stop this from happening, some flying training organisations offer complete packages to prepare would-be professional aviators for entry to their chosen career. The trouble is, the extras – however desirable or even essential – add cost to the already formidable fees.
For that reason, some students will risk signing for a bargain-price course rather than pay for a more comprehensive package that includes the potentially cost-saving benefit of detecting lack of aptitude or suitability in candidates.
Approved Training Organisations (ATOs) will usually insist on basic aptitude testing before accepting a student. The Airline Pilot Club (APC) – not a flying training organisation itself – specialises in preparing aspiring professional pilots to be ready for the challenges they are about to face, and helping them navigate the bewildering choice of available courses.
INDICATIVE ASSESSMENT
Preparation for APC registered members takes the form of an Indicative Assessment followed up by advice, and an online "pathway to pilot competence course" that makes the challenges ahead much more visible. That service costs the students nothing – APC earns its living from partner ATOs and airlines by taking some of the cost and risk out of the whole marketing, recruitment and training process for them, while taking much of the risk out of the aspiring aviators' proposed investment.
APC and some more enlightened ATOs are clearly looking for ways of making the professional pilot training experience less of a lottery for those who enter it. APC has just launched a new offer to its members, but only to those whose APC Indicative Assessment score is "Ready" or "Almost Ready". The offer is an APC-mentored airline transport pilot licence (ATPL) course carried out with Switzerland-based Aero Locarno (AeLo), one of APC's fully-vetted partner ATOs.
APC founder and chief executive Captain Andy O'Shea explains that the reason the product was launched with AeLo is that the latter is the first of its growing number of partner ATOs to complete a full cycle in APC's quality assurance programme.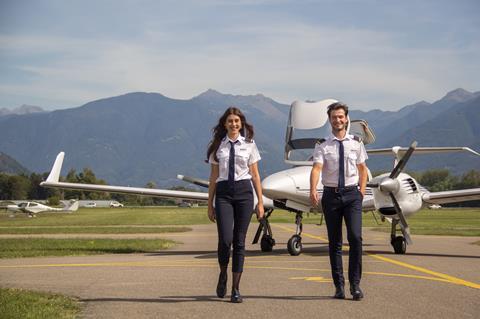 APC mentoring, O'Shea explains, means its own examiners will visit AeLo quarterly during the 16-month flying training course to talk to their students about their progress, and advise them about developing career opportunities "in the real world". APC mentoring also includes webinars and access to its "preparation zone", which reinforces learning and airline orientation.
Apart from the normal flying training syllabus conducted in Switzerland and Italy, all courses include 3h of upset recovery training in a fully aerobatic Extra EA200 aircraft.
AIRLINE LINK
Finally, when they are approaching ATPL graduation, APC will link the new pilots to recruiting airlines. In fact, O'Shea plans – as APC develops further – to become the go-to recruiter and talent filter for partner airlines.
One of the extras that APC trainees are persuaded to follow is an upgraded multi-crew cooperation course (MCC), known as the airline pilot standard (APS) MCC. It is European Union Aviation Safety Agency (EASA) approved, but not legally required. Those who complete it, however, are far more likely to pass their airline acceptance checks, and far less likely to struggle during their type rating training.
The APS MCC is an addition to an ATPL course, because although at that stage the pilots have won their wings, they have still only flown light piston twins, and only as first pilot – not as part of a crew. The APS MCC turns them into pilots who can fly jets or turboprop airliners as part of a crew, and it consolidates their technical and operational knowledge beyond the basic requirements of ATPL written exams.
The APS MCC concept emerged from work done by the EASA Aircrew Training Policy Group (ATPG). The ATPG was chaired for some years by O'Shea, when he was head of training for Ryanair. His experience of turning down fully-qualified pilots when they applied to join the airline because they were simply not good enough, had convinced him there was a need for something more than the basic ATPL course to produce a modern airline pilot, even one that had a short tick-box MCC tacked onto the end of it.
The resulting APS MCC, as delivered in this case by AeLo, involves up to 40h of training in a Boeing 737NG simulator practising airline standard operating procedures, and 50h of classroom study. The whole package takes a month, and while it inevitably adds cost, it improves employability considerably.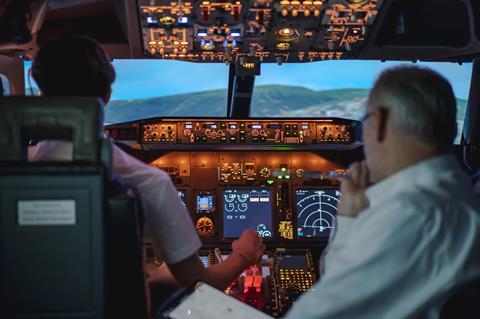 The fact that APC does not believe a traditional approach to flying training is enough of a preparation for modern airline flying means it will never be the cheapest pilot training gateway, and there are increasing numbers of ATOs that believe the same. The result is that the price of training to airline acceptance standard is not going to come down.
O'Shea is now seeking to persuade finance houses to offer affordable loans to airline-assessed approved candidates. His hope is that talented candidates from all social backgrounds will be able to train for an airline career. But he is circumspect.
"Don't hold your breath," he says.