Airbus made a strong start to 2020, accounting for all of the new commercial aircraft orders recorded during January. Boeing secured no fresh business, highlighting the continuation of its struggle with returning the grounded 737 Max to operational use.
Some 296 aircraft were ordered in the first month of the new decade, which, once offset against cancellations totalling 22 units, resulted in a net figure of 274. A further 38 aircraft were the subject of variant swaps.
After a previous peak of activity in October 2019 – when a net 355 airliners were ordered – January's performance ranked it as the second-highest month for sales within our 13-month review period.
Narrowbody commitments were responsible for all but nine of the net orders added, with one lessor and a US budget carrier dominating business.
Air Lease firmed an order for 50 A220-300s, along with 27 A321XLRs and 25 A321neos, while Spirit Airlines signed for 100 single-aisles: 47 A319neos, 33 A320neos and 20 A321neos. Both of these packages had originally been disclosed by Airbus last year.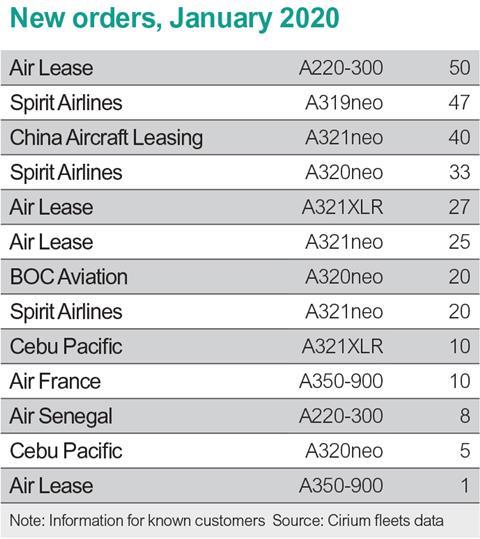 Additional business secured from lessors during January saw China Aircraft Leasing order 40 A321neos, and BOC Aviation sign for 20 A320neos.Cirium fleets data shows that Air Lease is the eighth-largest lessor in the world, with just over 350 in-service aircraft. However, its inventory will be boosted once the 737 Max has secured recertification via the US Federal Aviation Administration.
Further narrowbody success came from Cebu Pacific, which signed for 10 A321XLRs and five A320neos. And Air Senegal firmed up an eight-unit commitment for the A220-300, following a memorandum of understanding signed at the Dubai air show last November. Cirium shows that the African carrier currently operates two examples each of the A330-900, A319 and ATR 72-600 twin-turboprop.
In the widebody sector, Air France placed an order for 10 A350-900s, with these to be used to replace the flag carrier's A380 fleet, which is due to be phased out by 2022. Air Lease also signed for a single example of the big-twin model.
Cirium shows that the commercial aircraft order backlog stood at 14,748 units at the end of January. Airbus accounts for 7,454 (51%) of this total, with 5,528 (37%) being for Boeing types.
January's delivery total of 56 commercial aircraft marked a 36-unit reduction versus the same month a year earlier, and was the lowest figure recorded in our review period.
Airbus shipped 26 A320-family aircraft and two A220s during the month, along with three widebodies: two A350s and an A330neo. Boeing delivered 10 commercial aircraft, among them six 787s for customers including Etihad Airways, Japan Airlines, Turkish Airlines and United Airlines, along with two 737s to China Eastern Airlines, and one 777 each to Turkish and United.
Other notable deliveries in January included Aeroflot's receipt of five Sukhoi Superjet 100 regional jets.