Iranian authorities have dispatched a team of investigators to the scene of a Caspian Airlines Boeing MD-83 accident in which the aircraft suffered a runway overrun.
The twinjet came to rest on a highway apparently off the southern end of the 2,400m runway 13 at Mahshahr airport, located near the northern shore of the Persian Gulf.
It had been operating a service from Tehran with 135 passengers and seven crew, and touched down at 07:50 according to the Iranian Civil Aviation Organisation.
"After landing it exited the runway," the authority adds.
Images from the scene show the aircraft came to rest on its fuselage, blocking the highway, which runs through Mahshahr and connects it with the petrochemical city of Abadan.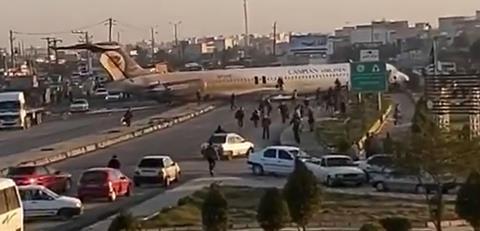 Video footage shows passengers evacuating from various exits.
Meteorological data for the time of the accident suggest good visibility and no adverse weather, although winds from 280-290° would indicate a tailwind component for runway 13.
"The situation of the aircraft's leaving the runway is under investigation," says the Civil Aviation Organisation, adding that the jet departed Tehran at 06:45.
Caspian Airlines has confirmed the airframe involved is EP-CPZ, which Cirium fleets data lists as an MD-83 originally delivered to Air Liberte in 1994.
It states that 136 passengers were on board and all of them are "in good health". The aircraft, it says, was operating flight IV6936. Caspian Airlines has sent its own emergency response personnel to Mahshahr.