United Aircraft's prototype flight-test Ilyushin Il-112V military transport has crashed during a training flight near Moscow, apparently after suffering an in-flight engine fire.
Video images circulating on social media appear to show the aircraft at low altitude with its starboard engine on fire before it banks and rolls sharply to the right, entering a steep inverted dive from which it fails to recover.
United Aircraft says the Il-112V, a twin-engined light transport which is still in the testing stage, had been conducting an approach in the Kubinka district, west of Moscow, when the accident occurred. It has not disclosed how many occupants were on board.
Russian state technology firm Rostec says it is establishing an internal commission to investigate, including representatives from manufacturers and research institutes.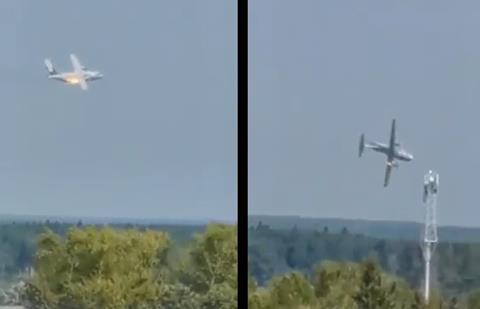 United Aircraft conducted the maiden flight of the type in March 2019, but the aircraft subsequently underwent a number of developmental modifications.
The first example of the Il-112V flew on 13 August from the Voronezh-based VASO aircraft construction facility to Zhukovsky airfield near Moscow for the Army-2021 international military forum.
VASO managing director Farit Sharafeev recently stated that the aircraft's participation in the event was a "serious step" for the programme, adding that while first example was still undergoing flight checks a second was being subjected to lifecycle testing.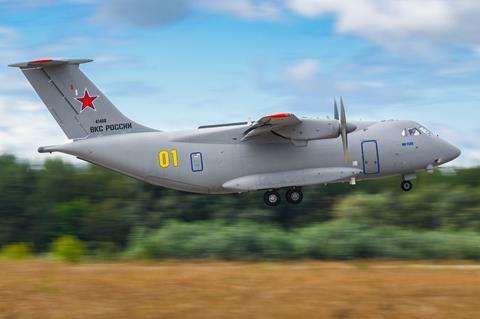 United Aircraft has been making preparations to start serial production of the Il-112V, added Sharafeev.
Powered by a pair of Klimov TV7-117ST turboprop engines, and featuring a large proportion of domestically-manufactured components, the Il-112V is designed to be a robust aircraft for personnel and cargo transport, capable of operating in harsh conditions.
United Aircraft is developing the aircraft as a successor to Soviet-era types including the Antonov An-26.