Delta Air Lines, the last US carrier to continue blocking middle seats amid the pandemic, will rescind that policy in the coming weeks.
In a 31 March note, the Atlanta-based airline says customers will have "more available seats to choose from" beginning 1 May.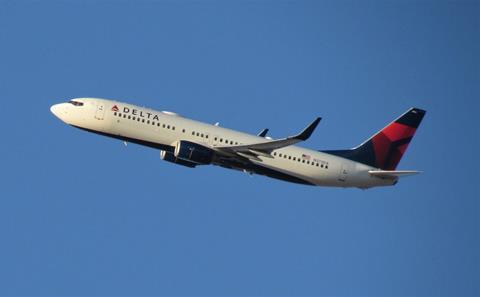 CEO Ed Bastian says blocking middle seats encouraged more passengers to fly with Delta.
But he notes that "nearly 65% of those who flew Delta in 2019 anticipate having at least one dose of the Covid-19 vaccine by May 1".
That gives Delta "the assurance to offer customers the ability to choose any seat on our aircraft", Bastian says.
Last year, as carriers scrambled to deal with a precipitous drop demand due to pandemic-driven lockdowns and other travel restrictions, airlines tried to entice travellers to travel by blocking middle seats – a move intended to inspire confidence in the safety of travel.
US public health agency Centers for Disease Control and Prevention (CDC) had advised people to stay home, away from crowds. If they needed to travel, the guidance was to remain at least 1.8m (6ft) apart and to wear face coverings.
As the pandemic dragged on and revenue lagged, some airlines began again selling middle seats. They cited studies showing that cabin air is exceedingly clean, and that virus transmission is unlikely, thanks do advanced air filtration systems.
Airlines also enhanced cleaning protocols, staggered boarding and limited food and beverage services to convince people air travel was safe.
Now that the immunisation campaign is in full swing, US carriers are looking forward to a busy summer, hopeful that pent-up demand will translate into full jets.
Trade group Airlines for America says domestic US travel is at about 60% of 2019 levels. Several airlines have said that March 2021 was shaping up to be their best month – in terms of revenue and bookings – since the global health crisis began just over a year ago.
Airlines will start reporting first-quarter results in about two weeks.