Chilean ultra-low-cost carrier (ULCC) JetSmart is on a tear across Latin America. After securing air operator certificates (AOCs) in three countries since its founding just six years ago, chief executive Estuardo Ortiz has set his sights on a precious new jewel: Colombia.
"Colombia a big opportunity for us," Ortiz told FlightGlobal on the sidelines of this month's ALTA AGM and Airlines Leaders Forum in Cancun. "For domestic travel, Columbia is larger than Argentina, Peru and Chile put together," he adds.
"We're talking about a market of almost 50 million passengers."
The country on the northwestern coast of the South American continent not only promises rapid rewards domestically, it also offers a very relevant geography when - not if - the Santiago-based company begins to reach for points even further north, like the shiny, lucrative USA.
"Our plan continues to be very high growth," he says with a smile.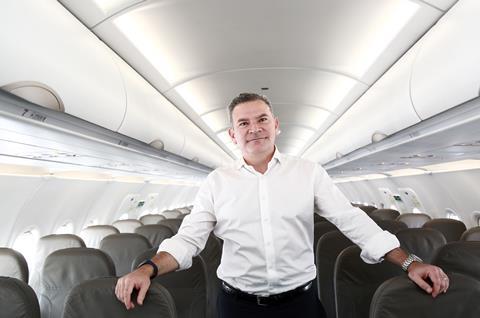 JetSmart, which currently operates 26 Airbus A320-family jets in the region – nine in Argentina, five in Peru and the remainder in Chile - burst onto the scene in 2017. Owned by Indigo Partners, the start-up airline was the first ultra-low-cost carrier in Latin America.
Ortiz has led the company from the beginning. A seasoned airline manager who gained his chops at TACA Airlines and later Avianca, Ortiz has made it his personal goal to thoroughly shake up Latin American travel. JetSmart's discount fares aim to entice a larger slice of the population to move from lengthy, unreliable and treacherous ground-based transportation options to air travel.
It adopted the no-frills formula that private equity firm Indigo has successfully developed with brands in other parts of the world. That formula calls for strict adherence to the two most important features of a successful budget airline: high efficiency and strict cost control.
But two and a half years after launching, with JetSmart having secured AOCs in both Chile and Argentina, the carrier's initial start-up momentum was cut short by the global Covid-19 crisis.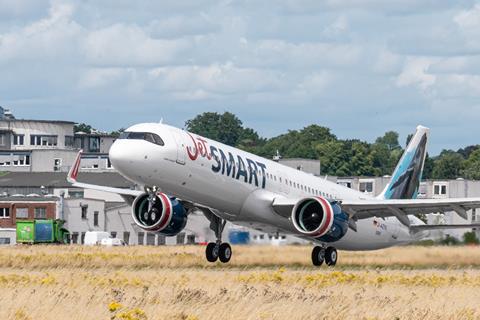 As much of Latin America locked down – stricter and longer than in other regions – travel was almost impossible to plan, for both passengers and airlines. The region's governments did not offer financial aid similar to sector-specific support in Europe and the USA, and the Latin American aviation industry took a catastrophic hit.
JetSmart pivoted as best it could to take advantage of the region's cargo transportation opportunity, stemming from a budding e-commerce boom during months-long lockdowns. At the height of the global health crisis, it did not store any of its then-fleet of 17 aircraft. In addition, the airline used the time to work through some issues including securing its certification in Peru, streamlining revenue management and distribution systems, renegotiating vendor deals and buying more aircraft.
"In that way, the pandemic was good for us," he says. And when it was over, the start-up… did another start up.
VIVA, ULTRA, GONE
JetSmart began its quest to gain a greater foothold in Colombia in earnest about a year ago. In early 2023 the carrier expressed interest in acquiring the flailing domestic airline Viva Air, just before it collapsed.
Viva had been trying to obtain clearance for a merger with Colombian heavyweight Avianca, which had resulted in regulatory scrutiny – the duration of which Viva had blamed for its decision to stop flying just a few weeks later. Viva suspended its operations on 28 February.
There is no low cost carrier presence in Colombia anymore. And that's the hole we're trying to fill
In March, JetSmart then signed a letter of understanding with Ultra Air, another domestic carrier on the financial ropes, that operated five Airbus A320s and served 13 destinations on 15 routes. Six days later, it abandoned those plans, and Ultra, too, soon folded.
Ortiz's prime interest at the time was in securing slots at Bogota's El Dorado International airport for JetSmart that would allow it to get in on the action before the window of opportunity closed. After both of those efforts failed, he decided the airline could go it alone.
Colombia's civil aviation regulator, Aerocivil, has in the meantime approved 27 domestic routes for JetSmart. In addition to Bogota, the airline plans to serve Barranquilla, Bucaramanga, Cali, Cartagena, Cucuta, Medellin, Monteria, Pasto, Pereira, San Andres and Santa Marta.
JetSmart has now applied for 24 slots at El Dorado for the 2024 travel season, and will find out shortly how many of those it is granted.
"When we were looking at the market very closely, there was clearly a change in dynamics," following the Covid-19 pandemic, Ortiz says. "Colombia was the number one recovery market in the region, both domestic and international."
After both Viva and Ultra collapsed, "there is no low cost carrier presence in Colombia anymore. And that's the hole we're trying to fill," he adds.
"I'm hopeful to have everything completed either by the end of the year or early 2024."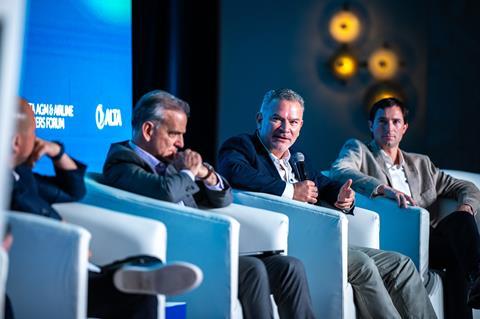 According to the country's aviation rules, airlines are required to launch operations with three aircraft, but Ortiz says his goal is "to grow quickly".
"The original strategy for JetSmart, the footprint, was to focus on fewer AOCs and build up scale before you go to the next [country]," he says. "But after the pandemic we were in a moment in time where the opportunities are there, and when they're there, you need to seize on them. We can't wait, or we're not going to be able to get in."
So JetSmart's first step in Colombia is to establish itself as a reliable partner, with domestic service that can compete with Ortiz' former employer, Avianca.
INTERNATIONAL DREAMS
"But over time, definitely the plan will be to fly internationally," Ortiz says. "Flying from the operations in Peru and Colombia offer us something that it's not easy to do from Buenos Aires or from Santiago, and that is: Access to the northern part of the region, and [later] of course, we will evaluate the US."
With a South American diaspora spread widely across the North American continent, many airlines look to the USA with excitement and expectation, as they tap into the vast VFR - visiting family and relatives - potential.
"It's much easier to do either from Colombia or Peru. So yes, I see a big opportunity to expand our international [service] from those two countries," Ortiz adds.
JetSmart has also begun to benefit from a strategic alliance with US behemoth American Airlines, which includes a minority investment. The two carriers launched a codeshare agreement for routes to Chile and Peru in June. "It's the first time in the Americas and probably in the world that a full-service legacy carrier is doing a codeshare with a full ULCC carrier, without compromising the model," Ortiz says.
That model has underpinned the airline's success story since 2017, and he's hanging on to it tightly.
"It's about making sure we do every step of these initiatives very strategically and thoughtfully. And more importantly, keep it simple, keep it low cost, because it's very easy to get lost" if the initiatives become to big, or the collaboration too complex.
There are still a few more items on Ortiz' long-term to-do list. One of them is a play for Brazil, the most populous country and potentially the biggest prize in all of Latin America. The carrier already flies to Sao Paulo and Rio de Janeiro from Chile, and to Rio from Argentina, but does he see yet another AOC in JetSmart's future?
"Down the road, JetSmart will have to seriously evaluate going into to Brazil," he says.
GTF ENGINE SPEEDBUMP
JetSmart plans to add six more aircraft to its all-Airbus fleet by the end of this year, bringing its total to 32, with more than 100 airframes, including 66 A321neos, still on order and due to arrive with the airline through the rest of the decade.
But like 41 other carriers worldwide, JetSmart is also bracing for the impact of the Pratt & Whitney geared turbofan engine inspections.
"We haven't had a formal forecast yet, but should have soon," Ortiz says. "We have run some scenarios, of course. And as long as we can plan in advance, work with Pratt, get some way to offset it, I think we should be fine. But it's definitely going to be a big deal industry-wide for sure."
As those problems shake out, Ortiz continues undeterred on his mission to better connect Latin Americans to each other and the rest of the hemisphere, while charging lower fares than his airline CEO peers. But after launching the company, then spending more than two fraught years in Covid-crisis mode, more-or-less launching again, and expanding quickly to cover the continent from the very north to its southern tip, Ortiz is ready for a little breather.
"For now, we will focus on what we have: Open Colombia, increase the footprint, get depth into the network, build scale, get some efficiencies in cost, revenue and scheduling, and strengthen the operation in the four countries," he says.
"It will be very good to just do that for a couple of years."