Chile's JetSmart and American Airlines have launched a strategic alliance and will begin to sell codeshare flights between the United States and Chile.
The Santiago-based ultra-low-cost carrier said on 5 June that the deal includes "an extensive network of codeshare routes, as well as access, in the medium term, for JetSmart customers to the American Airlines AAdvantage loyalty programme".
"The alliance includes a minority investment by American in JetSmart, which will help further the company's development in South America," Jetsmart says.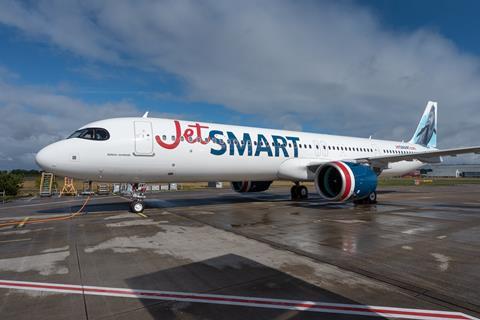 JetSmart chief executive Estuardo Ortiz says the collaboration with American is "making history" and positions the carrier to achieve "our vision of reaching 100 million passengers and 100 aircraft by 2028".
"Through this agreement, JetSmart will have a boost to expand in Latin America and contribute to the regional economy through greater dynamism in tourism and other productive sectors in which air transport is essential," Ortiz adds.
Ticket sales began on 1 June, with codeshare flights to begin on 15 June, JetSmart says. The deal covers the sale of tickets to and from the United States connecting with routes in Chile, namely to Santiago, Antofagasta, Concepción and Puerto Montt.
"In the coming weeks, new codeshare routes will be made available to travellers from other regions of Chile and Peru," the carrier adds. "In Argentina, more codeshare routes will be added, upon obtaining government approval."
JetSmart says it expects to join the AAdvantage loyalty programme "later this year".
In April, the US Department of Transportation (DOT) approved an application by the two airlines to enter a two-year codeshare agreement effective immediately and running through 21 April 2025.
The agreement allows American to provide scheduled air service "between points in the United States and points worldwide on a third-county codeshare basis". It also grants JetSmart authority to display American's designator code on flights operated by JetSmart "within Chile and between Chile and third countries", according to the DOT filing from 21 April.
In July 2021, American said it was taking a minority stake in JetSmart, seeking to broaden its Latin American network and fuel JetSmart's growth, though financial details were not disclosed.
JetSmart – owned by US private equity firm Indigo Partners – operates a fleet of Airbus A320s and A321s in Chile and Argentina.