Colombian airline Avianca has cancelled plans to combine with financially-strapped ultra-low-cost carrier Viva Air, citing what it describes as onerous conditions required by Colombia's aviation regulator.
"If the integration were to take place under the conditions imposed by Aerocivil, it would jeopardise Avianca's stability and Colombia's connectivity," Avianca chief executive Adrian Neuhauser said on 13 May.
The conditions would make Viva "unviable as an airline", he adds.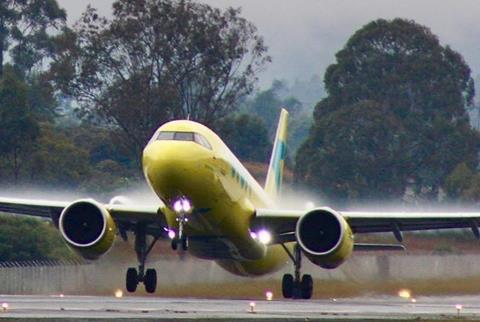 "The company was unfortunately forced to desist from the integration," Avianca says.
Viva and Avianca in April 2022 put forth a plan to combine under a joint holding company, saying such a structure would improve each carrier's financial stability. The deal came as the airlines struggled to rebound from the pandemic-driven collapse in air travel demand.
But the combination faced pushback from Colombia's Directorate of Air Transport and Aero-Commercial Affairs (Aerocivil), which first blocked the arrangement and then approved it on certain conditions. Those included requirements that the companies return some take-off and landing slots at Bogota, maintain Viva's low-cost options and increase frequencies on the Bogota-Buenos Aires route.
Meanwhile, Viva's financial position became increasingly perilous as its costs soared. Viva suspended operations in February.
Avianca says Aerocivil's requirements failed "to adjust the conditions to Viva's current reality". As a result, Avianca would be responsible for assuming "obligations, routes, and service and price level commitments that do not match Viva's remaining capacity after two months of suspended operations".
Additionally, the conditions would prevent Viva from basing "a single aircraft at the country's main airport" – Bogota's El Dorado international, Avianca says.
"This would make Viva economically unviable, and explicitly contradicts other conditions that require that Viva continues to provide connectivity on the historic routes where it was the only operator," the airline adds.
Avianca's Neuhauser blames Aerocivil for forcing Avianca into a decision he says could prompt Viva's dissolution.
"Unfortunately, this long process puts Viva, the airline that brought the low-cost model to the country…at imminent risk of disappearing," he says.
Avianca insists it plans to grow without Viva. The airline "will seek to add aircraft to strengthen regional connectivity [and] offer employment options to Viva employees," it says.