Just six days after signing a letter of understanding to acquire Colombia's Ultra Air, Chilean low-cost carrier JetSmart has abandoned its plans.
Santiago-based JetSmart had announced the deal on 16 March, saying that a 30-day period of due-diligence would commence.
"We have made progress in the process and consider that, due to various factors, it is not possible to continue with the intention to purchase Ultra Air and we have cancelled the letter of understanding and terminated the process," JetSmart chief executive Estuardo Ortiz said on 22 March.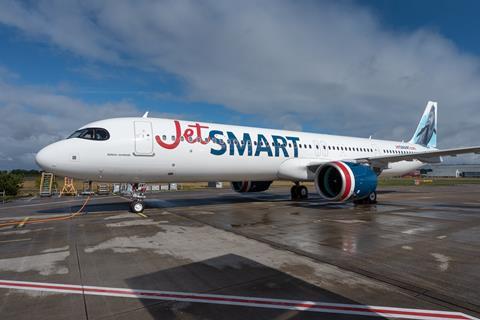 That cancellation comes on the same day that Colombian civil aviation regulator Aerocivil approved Avianca's plan to acquire flailing low-cost carrier Viva Air, which ceased operations in February, under strict conditions.
Those conditions include refunding customers who had bought tickets on cancelled Viva flights, and allowing those who have tickets pending to carry out their plans. The carriers must also return some take-off and landing slots at Bogota, maintain Viva's low-cost options and increase frequencies on the Bogota-Buenos Aires route.
In recent weeks, JetSmart, along with Chilean heavyweight LATAM Airlines Group had also expressed interest in acquiring Viva Air.
It is unclear if the two events – the Avianca-Viva merger approval and JetSmart giving up its pursuit of Ultra – are related. However, with potential slot-shuffling at Bogota's El Dorado International airport, JetSmart may see an avenue to acquire a stronger foothold in the Colombian market more easily than taking over an entire airline.
According to Cirium data, Ultra operates five Airbus A320s and serves 13 destinations on 15 routes, all within Colombia. JetSmart said last week that the Colombian carrier would be a helpful addition to its network as Ultra is focused on domestic routes, and JetSmart currently only operates flights to Bogota, Cali and Medellin from Chile.
That said, JetSmart's "commitment and confidence in the Colombian market remains firm", Ortiz continues on 22 March.
The Chilean ultra-low-cost airline has applied for a Colombian operating permit, and is in the process of setting up a base in Bogota. In February, Aerocivil approved 27 domestic routes for the carrier. JetSmart already has operating certificates and conducts domestic flights as a local carrier in Chile, Argentina and Peru.
"As we have affirmed throughout this time, at JetSmart we will continue to focus on meeting the requirements of our certification process, working closely with [Aeorcivil], who have performed with the highest level of professionalism," Ortiz says.
JetSmart has 23 Airbus A320 and A321 aircraft in its active fleet, with 106 more on order and scheduled for delivery by 2030.