Panama's Copa Airlines is eyeing slots at Bogota's El Dorado International airport as Colombian competitor Avianca mulls stepping back from its planned acquisition of now-defunct discount carrier Viva Air.
Speaking during an earnings call on 11 May, Copa chief executive Pedro Heilbron said his airline is looking to expand in Colombia through subsidiary discount airline Wingo. He also acknowledged that Colombia's air travel market remains in a state of limbo.
That is because two domestic airlines – Viva Air and Ultra Air – in recent weeks shuttered due to financial difficulty.
Ultra halted flights in March amid reports of financial trouble, and Viva ceased operations on 27 February, citing delays in regulatory approval of a potential merger with market heavyweight Avianca. It is now unclear if Avianca intends to continue with its acquisition plan.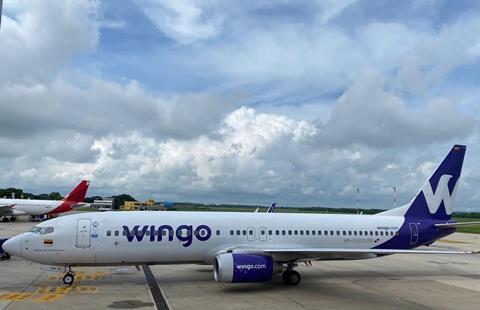 Avianca had been trying to acquire Viva for the past year, but several decisions by Colombia's Directorate of Air Transport and Aero-Commercial Affairs – known as Aerocivil – stymied the process. Aerocivil's latest approval, on 25 April, reiterated a preliminary decision from March that set conditions Avianca has called "unfeasible".
One of those conditions is that Avianca give up some slots in Bogota – and Copa's Heilbron now smells opportunity.
"The Bogota slots are very important because it was very difficult for Wingo to publish an advance schedule and fly at the peak times when most passengers want to fly," he says. "Up to now, the slots in Bogota have been dominated by a single carrier. Hopefully this is going to change and make Bogota, one of the few slot-restricted airports in Latin America, a bit more competitive."
"We see that as a positive development," he adds.
Avianca said on 10 May it will decide "by the end of the week" if it will continue pursuing its planned acquisition of Viva. Chief executive Adrian Neuhauser said the company is "not pleased" with the conditions required by Aerocivil.
He added that Viva is in a substantially different position than it was when Avianca first expressed interest in an acquisition – suggesting a merger may be less viable now than several months ago.
Wingo Colombia operates nine Boeing 737-800s and serves 37 domestic Colombian and international routes.
"Although there are no plans to grow the Wingo fleet in an aggressive way… Wingo will continue to take advantage of opportunities," says Heilbron, calling the carrier's expansion plan "disciplined and opportunistic".
The airline is currently "not a large player in domestic Colombia", Heilbron adds, but the demise of Viva and Ultra "has had a positive effect".
On 10 May, Copa said it earned a profit of $122 million during the first quarter of 2023, as "healthy demand" supported the company's post-pandemic rebound. Leisure travel outpaced corporate travel after Covid-19-related travel restrictions were eased.
"Things have changed in our part of the world since the pandemic," Heilbron says. "Leisure is our strongest segment now… in about the 40s-percent range, and business has come up somewhat, like in the mid-20s percent."
"There was a slight improvement in the last few quarters, nothing very significant," he adds.