The chief executive of Chile's JetSmart has expressed interest acquiring struggling Colombian low-cost carrier Viva Air after that carrier filed for protection from creditors.
In a message posted on LinkedIn on 10 February, JetSmart CEO Estuardo Ortiz wrote that the Santiago-based airline has "notified Viva Air… of our interest in acquiring 100% of its shares".
"It is an option to continue strengthening free competition and the low-cost model in air travel in South America, thus generating significant benefits for users, employment and tourism," Ortiz writes. "We believe in Colombia and its growth potential."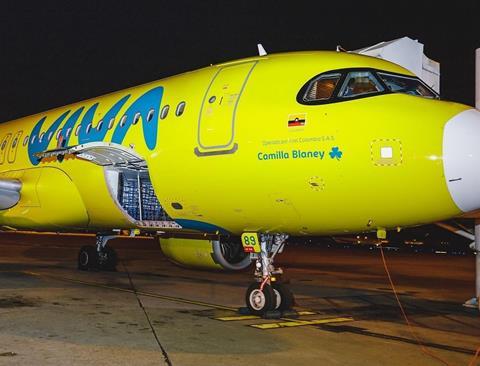 "We want to add to the development of tourism and connectivity with our… model and the great trajectory that Viva Air has achieved. Our vision is long-term and we are in a position to continue investing in our growth," he adds.
JetSmart did not immediately respond to a request for additional information.
Earlier in the day, Viva Air had voluntarily filed for the Colombian version of bankruptcy, known as PRE, "in accordance with the regulations that protect companies affected by the Covid-19 crisis, with a view to achieving its permanence in the market, pending the urgent definition by Aerocivil about its alliance with Avianca". The process gives the airline 90 days to restructure its debts through negotiation with its creditors.
In January, Aerocivil, Colombia's civil aviation authority, had annulled an earlier rejection of a proposed merger between Avianca and the financially strapped discounter, saying it would restart a review without forcing the companies to re-apply.
At the time, the Colombian regulator had admitted to "the existence of a substantial irregularity in the processing of the administrative action in the first instance". The file was returned to the country's Directorate of Air Transport and Aero-Commercial Affairs for further consideration.
Meantime, Viva remains in a tenuous position, it says. "The company has not been able to access capital during the last nine months since it has not yet been possible to implement its integration with another airline, which is still pending authorisation from the national government," Viva said on 10 February.
"After studying all the available alternatives in the face of the current situation, we entered into this voluntary mediation process while we wait for the urgent decision by the authority of our alliance with Avianca," the airline adds.
It says it will continue operating during the restructuring process.
According to Cirium fleets data, Viva Air operates a fleet of 19 Airbus A320 aircraft based out of Bogota. JetSmart also operates an all-Airbus fleet, consisting of 23 A320s and A321s, from bases in Chile and Argentina.