Colombian airline Avianca has sharply criticised a decision by the country's civil aviation regulator on its planned acquisition of now-defunct Viva Air.
The Bogota-based carrier late on 26 April says the decision "does not allow a realistic transaction for the integration and rescue of Viva", and calls the conditions the regulator set "unfeasible".
Avianca has been trying to acquire Viva for almost a year, and a series of decisions by Colombia's Directorate of Air Transport and Aero-Commercial Affairs, also known as Aerocivil, have stymied that process. Aerocivil's final approval, published on 25 April, reiterates a preliminary decision from March, which sets conditions that Avianca says it cannot fulfil, "making the rescue of the airline Viva gradually less viable," the airline says.
Viva ceased operations on 27 February, blaming Aerocivil's regulatory delay.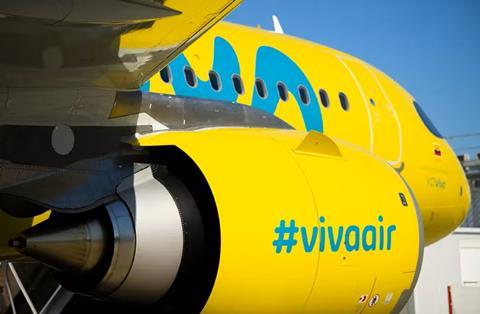 "Every day that passes in the process is one day less for Viva, for its workers and for the entire value chain associated with its existence. There is an increasing risk that lessors will withdraw the airline's few remaining aircraft, making its operation unviable," Avianca adds. "Today, undoubtedly, the speed of the authorities' actions and the reconsideration of the unfeasible conditions imposed so far is essential to find a solution that will safeguard the existence of what remains of the low-cost pioneer in Colombia."
The strings attached in the preliminary decision in included refunding customers who had bought tickets on cancelled Viva flights, and allowing those who have tickets pending to fly. The carrier must also return some take-off and landing slots at Bogota and maintain Viva's low-cost options.
Avianca says Aerocivil's March decision "authorized the integration but with several conditions that, depending on the case, make Viva's operation unviable in the medium term, sentencing it to operational and financial failure, are impossible to comply with, given the current reality of that company, which has already lost more than half of its aircraft, or grant unjustified benefits to third parties".
The new resolution is subject to appeal not only by Avianca and Viva, but also JetSmart, Wingo, and LATAM Airlines Group, which all expressed interest in acquiring Viva earlier this year.
"The process, which has been under study for almost nine months, must now add this phase of appeals, making the rescue of the airline Viva gradually less viable," Avianca says.