Boeing has ordered the removal from service of eight recently built 787s which have been identified as suffering from two "distinct manufacturing issues".
The airframer discloses that the two structural issues were found in the join of the aft body fuselage section of the jets, "which, in combination, result in a condition that does not meet out design standards".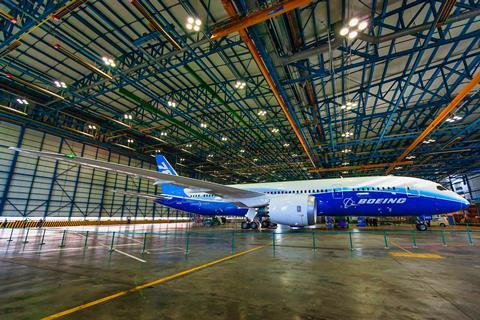 "[As] part of our assessment, we determined that eight airplanes in the delivered fleet are affected by both issues and therefore must be inspected and repaired prior to continued operation.
"We immediately contacted the airlines that operate the eight affected airplanes to notify them of the situation, and the airplanes have been temporarily removed from service until they can be repaired," says Boeing.
The company did not disclose further details, such as which airlines were affected or when these eight aircraft were built or in which facility. Boeing builds 787s at plants in Everett, Washington and North Charleston, South Carolina.
Sources cited by industry publication The Air Current, which broke the story, said the structural issue had to do with the inability to withstand the maximum stress experienced by in-service aircraft, leading to potential failure.
The Air Current says the affected carriers include Air Canada, Singapore Airlines and United Airlines.
Boeing says it has notified the US Federal Aviation Administration and is conducting "a thorough review into the root cause".
"Safety and quality are Boeing's highest priorities; we are taking the appropriate steps to resolve these issues and prevent them from happening again," the airframer adds.
Cirium fleets data shows there are now close to 1,000 787s in operation worldwide.