Israel Aerospace Industries (IAI) recorded the most profitable half-year in its history in the first six months of 2021, driven largely by the performance of its military business.
First-half turnover for the group stood at $2.2 billion, with net income at $100 million, year-on-year increases of 4.1% and 22%, respectively. EBITDA rose by 13% in the first half, to $252 million.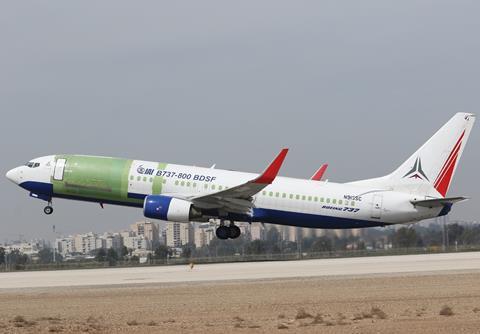 Describing an "excellent" six months, Boaz Levy, IAI chief executive, says that in addition to the "impressive" performance of its military business, there was also some resurgence at its civil operation.
"We see signs of recovery from the coronavirus crisis in the aviation group, a rise in contracts for business jets, as well as positive influence from the rise of global trade ferried on recently converted passenger jets used as cargo planes."
IAI has a number of popular cargo conversion programmes, notably for the Boeing 737-800; it has also recently begun work on its first 777 freighter modification. The company also produces the G280 business jet for Gulfstream.
First-half defence sales increased by a little over 10%, to $1.8 billion, against $1.7 billion in the same period a year earlier, largely due to its missiles and space business. Meanwhile, civil aviation revenue slipped by 7.5% to $566 million, down from $612 million a year earlier.
Net profit for the military unit in the first half rose to $138 million, up slightly on the $130 million recorded a year earlier, while the civil aviation business saw its loss deepen to $14 million, from an $8 million six-month loss in 2020.
At 30 June, the company's backlog stood at $12.4 billion, compared with $12.6 billion at the end of 2020.
IAI is still planning a future stock market floatation, Levy adds.