Honeywell is now investing in two manufacturers of electric vertical take-off and landing (eVTOL) aircraft following the announcement on 10 June that it would be taking stakes in start-ups Lilium and Vertical Aerospace.
No details of the size of the planned investments were revealed, however.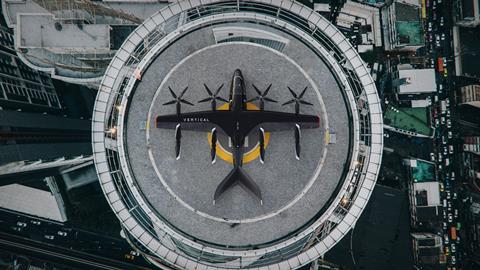 Both companies are in the process of listing on the US stock market via mergers with Special Purpose Acquisition Companies (SPACs) – businesses formed to raise capital for investment through the purchase of other firms.
Germany headquartered Lilium, which is merging with Qell Acquisition Corp, revealed yesterday that it had selected Honeywell to provide fly-by-wire controls for the in-development Lilium Jet.
However, in addition to simply becoming a supplier to the programme, Honeywell is also taking a stake in the company, Lilium says.
That will be achieved through a "common stock PIPE offering" – a private investment in a public entity, which sees shares sold at a predetermined price. As part of the merger, Qell is making available 45 million shares at $10 per share, netting gross proceeds of $450 million, according to its stock exchange filings.
Similarly, Honeywell's backing of Vertical Aerospace will come through subscription to a PIPE offering as the UK start-up merges with US-listed Broadstone Acquisition Corp.
Honeywell will provide the flightdeck on Vertical Aerospace's VA-X4 eVTOL aircraft.
However, it is not the only supplier to invest in either of the developers: US software firm Palantir Technologies is backing Lilium, while propulsion provider Rolls-Royce is to acquire a stake in Vertical Aerospace.
UK-based Vertical Aerospace yesterday announced "conditional orders" from lessor Avolon and American Airlines, plus a "pre-order option" from Virgin Atlantic. Combined, the deals are fro 1,000 aircraft worth a total of $4 billion. Avolon and American are also investing in the company.
Both Lilium and Vertical Aerospace expect their aircraft to be in service by the middle of the decade.