Rolls-Royce is assuming engine flying hours on twin-aisle long-haul aircraft will reach just 55% of pre-crisis levels during 2021, down from a previous base case of 70%.
The outlook reflects the uncertainty over air traffic recovery for the widebody sector and the engine manufacturer expects, on this basis, free cash outflow for 2021 will reach about £2 billion.
Rolls-Royce says such financial forecasts remain "highly sensitive" to the changes in the conditions, adding that it is trying to drive down costs.
When Rolls-Royce unveiled a proposed recapitalisation package in October last year, the group had been aiming to return to positive cash-flow during the second half of 2021 and achieve annual free cash flow of £750 million or more in 2022.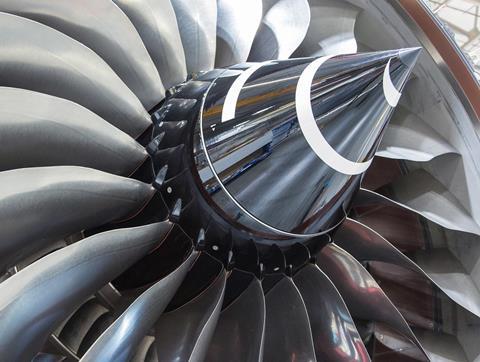 The company expected this forecast to be driven partly by a recovery in its civil aerospace activities, with an increase of widebody engine flight hours – reaching 70% of 2019 levels during 2021, and 90% in 2022, although it acknowledged that a "reasonable worst-case scenario" could limit the 2022 recovery level to 80%.
Rolls-Royce states in its latest outlook, ahead of a full-year results disclosure in March, that it expects the free cash outflow for 2021 to be "heavily weighted" towards the first six months of the year.
But it adds: "We continue to expect to turn cash-flow positive at some point during the second half, reflecting our forecasted profile of flying hours as they recover from today's low base."
The company is maintaining its target of £750 million in 2022 cash-flow, "contingent on the expected recovery in engine flying hours".
Rolls-Royce says it is achieving "good progress" on its restructuring programme and free-cash outflow for 2020 was "in line" with previous guidance. The group made cash cost savings of more than £1 billion, and year-end liquidity reached about £9 billion.
It removed some 7,000 personnel roles last year, progressing towards its intended figure of 9,000 by the end of 2022.
But the company's civil aerospace business remains heavily affected by the pandemic impact on long-haul travel, given its focus on large engines for widebody aircraft.
"Enhanced restrictions are delaying the recovery of long-haul travel over the coming months compared to our prior expectations," it says.
This is placing further financial pressure on Rolls-Royce customers, with a knock-on effect on 2021 cash flows.
But the manufacturer says the progress with vaccination programmes is "encouraging" for medium-term recovery of air traffic. "We are confident that, despite the more challenging near-term market conditions, we are well-positioned for the future," it states.