Rolls-Royce is maintaining its financial guidance as it expects to turn cash flow positive in the second half of next year and reports 'good progress' on meeting its cost-saving targets.
In a trading update issued today, Rolls-Royce notes a slowing in the recovery of the air transport market since the summer which has increased its cash-burn but flags encouraging news on effective Covid-19 vaccines and expects an improvement in commercial air travel markets in the second half of 2021.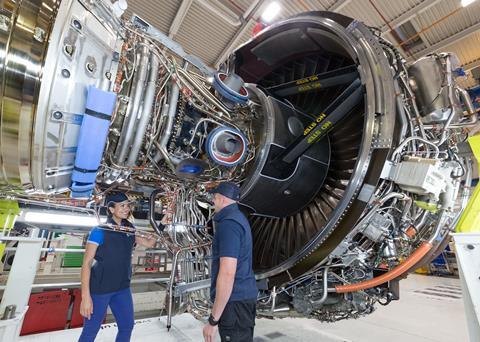 Over the 11 months to the end of November, Rolls-Royce says its large engine flying hours stood at 42% of prior-year levels. The slowing in the pace of recovery during the second wave of the pandemic means engine flying hours increased to 33% in October and November. They had been at 29% and 24% in the third and second quarters, respectively.
Rolls-Royce had in July projected a 55% decline in engine flying hours for widebody aircraft over the course of this year.
The slower pace of recovery in the fourth quarter means Rolls-Royce now expects cash outflow for the year of £4.2 billion ($5.6 billion) - compared to the £4 billion anticipated previously.
"We have reduced the pace of production for our large engines and our full-year guidance for approximately 250 deliveries is unchanged," the company says.
While commercial air transport continues to struggle, Rolls-Royce says activities in the defence and business aviation segments have held up well.
In defence, a recent order from Germany for 38 Eurofighter combat aircraft has benefited the company through a related commitment for 56 EuroJet EJ200 engines. Both Rolls-Royce and its ITP Aero unit are members of the EuroJet consortium.
"We continue to expect the group to turn cash flow positive at some point during the second half of 2021, as we mitigate the uncertainty of the timing and shape of the recovery through cost-saving and capital allocation actions," Rolls-Royce says. "Our target to deliver at least £750 million free cash flow (excluding disposals) as early as 2022 is also unchanged."
It reports "good progress" on the major restructuring it disclosed in May - which targets £1.3 billion of cost savings and a reduction of at least 9,000 roles by the end of 2022.
"More than 5,500 roles will have been removed by the year end, ahead of our prior expectation of over 5,000, with a significant proportion achieved through voluntary severance," it says.
"We are in consultation regarding the next phase of our Civil Aerospace footprint review, which includes a proposal to transfer our facility and workforce in Hucknall, UK, which manufactures a range of aero-engine parts, into ITP Aero. We are also proposing to consolidate the manufacture of aero-engine structures into ITP Aero," the company says. It notes the moves will generate efficiency savings for the group and strengthen ITP Aero's capabilities.
ITP Aero remains among the assets under consideration for disposal, as Rolls-Royce aims to raise at least £2 billion from disposals. In December it made its first such move by agreeing the sale of its civil nuclear instrumentation and control business.
Rolls-Royce chief executive Warren East says: "We have made rapid progress on our restructuring programme and the consolidation and reorganisation of our Civil Aerospace footprint is well underway. Our £5 billion recapitalisation package in November was well supported and has increased our resilience and strengthened our balance sheet.
"The outlook remains challenging and the pace and timing of the recovery is uncertain. However, our actions have given us a strong foundation to deliver better returns as our end markets improve."