It has always been easy to attract a good number of young people to begin training as airline pilots, but finding the right calibre and diversity of candidates is not as simple. That has always been true, and never more so than now.
While some flight training organisations try to discourage those who are unlikely to succeed as commercial pilots from committing to the expense of training, others will accept fees from persistent self-sponsored aspiring aviators who, even if they win a licence, are unlikely to be offered a job by an airline.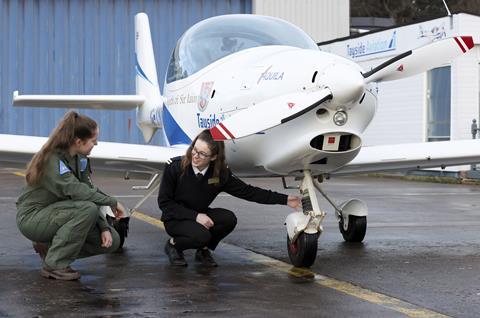 Serious accidents in recent years, although rare, were almost all the result of inadequate crew competency. This is not so much a matter of handling, but failures of situational awareness and the inability to cope under stress. This stems from personality or behavioural factors that, often, training would not be able to fix.
QUALITY APPLICANTS
The airlines and training Industry are still searching for the right bait to attract the quality applicants. Indeed, there are a couple of start-up organisations now who are trying a different approach to reel in the "right stuff". One, the Airline Pilot Club (APC), makes a different kind of offer to those who are ready to start flying training; the other – the International Air and Space Academy (IASTI), seeks to catch students much earlier in their education and guide, educate and train them toward jobs in the airline and aerospace sectors. Both seek to ready aspiring aviators for entry into the industry.
Attracting the best is increasingly difficult. Modern airline conditions of service and pay are often not as attractive as they used to be, especially to high quality young people who have the choice of other rewarding career paths. Likewise, the pilot lifestyle – regularly being away from home for days at a time – is seen as less than optimum for a family life.
Meanwhile, the hugely successful development of no-frills airlines all over the world has made a career as an airline pilot look less glamorous than it used to do, although it still manages to retain something of that cachet.
Piloting today's ultra-high-tech aircraft, however, is a skill in its own right. The high degree of automation on the flightdeck may make the job safer than the more hands-on flying of the old days, but it is technically complex, requires different skills and is definitely not easier just because it is automated.
The task of commanding the crew of a large aircraft carrying hundreds of passengers and high value freight internationally over huge distances has always been – and still is – a massive responsibility, calling for leadership and a cool head. Not all personality types will shoulder that burden easily. The material the airlines seek are those who actually want responsibility and a challenging job, whatever else they may hope their career will bring them.
Captain Andy O'Shea is an airline man who – in his career – has had to grapple with the problems of fully licenced pilots who proved that they did not have what it takes to be employable commercial aviators. He was formerly head of training at Ryanair, and chairman of the European Union Aviation Safety Agency's Aircrew Training Policy Group, is currently based in Ireland and the UK but intends to make his new venture international.
Now retired from Ryanair, O'Shea is in the process of setting up the APC. Due to move from its present prototype phase to launch status in April, this plans to provide a different kind of service to aspiring pilots. If it works as O'Shea intends, it will attract and prepare the right people for a career as a professional pilot, and conversely enable any likely failures to discover – before they lay out lots of money – that they risk getting no return on their considerable investment.
One of O'Shea's aims is to widen the catchment area, on the grounds that fishing in a larger pond means there will almost certainly be more applicants of the right calibre among the more sizeable catch. A bugbear the industry has always faced is that talented people from less prosperous backgrounds cannot access the loan security necessary to raise the finance to pay the approximately €150,000 ($168,000) for their training, so many of them give up their piloting ambition altogether.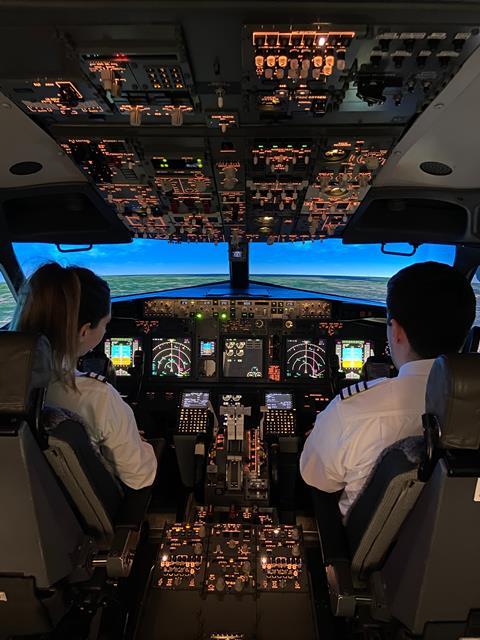 The training industry's holy grail has always been to find a system that can attract and identify high calibre students, assess them reliably as near certainties for career success, and then match them to guaranteed commercial financing without traditional loan security.
O'Shea hopes the APC's formula will do that, but the status of the financing arrangements is still a little short of touchdown. He has been working with London-based insurance specialist AON to create artificial intelligence-based systems for making predictions of success more reliable.
To attract the big numbers among which quality can be found in sufficient quantity, the APC offers completely cost-free assessment, learning and preparation for an airline pilot career. O'Shea says that this starts with free online registration for APC membership.
Once registered, members can access a free "pilot career indicative aptitude assessment", followed by what the APC calls its "pathway to airline pilot competence course" – also free. Finally, there are zero-cost weekly online webinars for club members, explaining and discussing knowledge required to pass the compulsory theory examinations for the Airline Transport Pilot License. These webinars are active already.
In another approach that the APC hopes will increase the numbers applying, it also offers, for female pilots, mentoring through the Female Pilot Hub.
The "pathway" course is an online learning experience that all APC members have to complete before they are considered fully prepared to move on to pilot training at one of the APC-vetted approved training organisations (ATOs). Successful completion of the whole APC process guarantees the students a place, and will have prepared them well for it.
This "pathway to airline pilot competence" takes about five hours of online study, and unless the students can correctly answer the questions posed during and after each lesson, they cannot move on to the next subject. The questions are searching, so unless the students genuinely understand what they have read, they will probably answer incorrectly.
The pathway lessons guide the aspiring pilots through human factors requirements like crew resource management, human performance limitations, and threat and error management. Then the lesson examines the nine "Essential Pilot Competencies".
CORE COMPETENCIES
Since competency-based training was introduced as the industry-recognised way of defining when pilots have reached acceptable standards, the definitions of "pilot core competencies" had to be agreed – and they were. There are nine competencies, each of which has a sub-set of behavioural markers the pilots should demonstrate to guarantee that the operation is safe, efficient, and comfortable.
If any of the APC members was attracted primarily by the excitement and perceived glamour of piloting, learning exactly how their competency will be judged is a sobering experience. The course runs in detail through what working pilots are expected to be, to know, to do, how their skills will be judged, and what their legal responsibilities are. The sheer extent of the challenge is spelled out in intimidating detail. Those who still relish the challenge – once its extent has been made clear – may well be the right stuff.
The APC, then, is not an ATO, but those members who go through its processes will know far more about the career they thought they wanted, more about themselves, and whether they are likely to be able to cope with the job.
At the same time, the club acts as a see-and-be-seen marketplace. The APC-vetted ATOs can observe the students and their progress, and the students can peruse the ATOs and their offers, heightening the chances that they will make appropriate matches.
Current ATO partners include Aero Locarno, Atlantic Flight Training Academy, Aviomar Flight Academy, Bartolini Air, Global Aviation, Global Flight Training Solutions, and VA Airline Training, among others.
Another approach designed to engage and prepare motivated young people for jobs in the airline and aerospace industries has been adopted by the IASTI.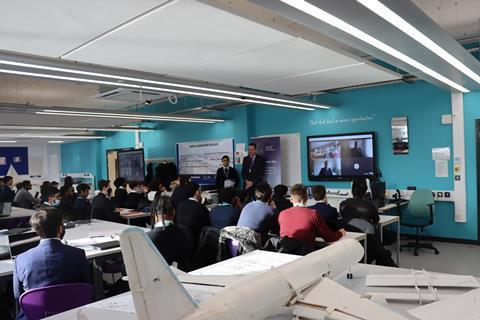 Founder and chief executive Simon Witts is a long-time professional engineer who has worked for years to bring together employers, schools, education establishments and universities in the UK to enable them to prepare young people – from the age of 16 or earlier – for entry into aviation, whether as engineers, pilots, or flight dispatchers, and other industry skills.
To understand Witts' aim better it helps to consider how, for example, someone who wants to become a medical doctor has an integrated training pathway all the way from schooldays to qualification level.
Why can the same not be true for those who wish to enter a different – but also highly technical – industry?
Witts describes the whole exercise as "plugging education into industry", and works with employers, educators, trainers, local government and the state education system to set up IASTI academies, which he plans to do in all the UK's regions. The UK, says Witts, is where he is starting, but he insists the same model could be applied in any country, and he has industry backers including Boeing and Embraer who also believe the system can work.
Indeed, he has overseen the setting up of the first of IASTI's 16-plus institutes overlooking the runway at London City airport, which welcomed its first intake of students in September 2021. Called IASTI London City, it is designed, simultaneously, to deliver aviation and traditional learning while the pupils are taught knowledge and skills that provide them with "the competence to enter the industry".
The learning programme is industry-led and -designed and STEM (Science, Technology, Engineering and Maths)-based. Students between the ages of 16 and 18 years choose from three different career pathways: pilots; engineer; and ground dispatchers. They will be educated to Level 3 qualifications or a degree and trained to industry standards, but apprenticeships are also an option.
The system is not designed to trap students if they want to take their skills elsewhere, and if they start out aiming to be a pilot but then decide to train as an engineer they can change. IASTI London City works in full partnership with London Design and Engineering University Technical College.
The chair of the IASTI stakeholder board, Nichola Bates, is also the head of Boeing Global Accelerators & Innovation Programs, a division that also backs O'Shea's APC project.
Bates provides an interesting perspective on IASTI's plans from an industry point of view, saying: "I am immensely proud to be leading the industry partners on the IASTI stakeholder board as we launch our scale-up based on the successful UK 'pilot' [scheme]. The world needs a sustainable supply of the right people from the right background and I am confident that we have found the right solution to achieve that. I encourage all of industry to get behind this initiative with its 'collaboration before competition' approach."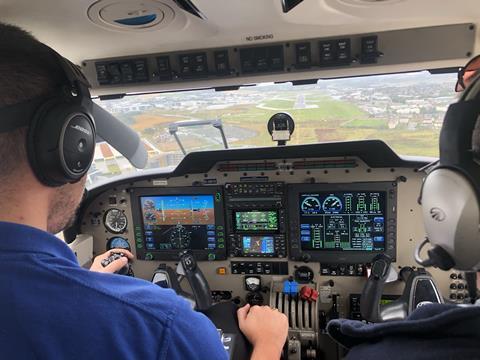 Embraer is also one of the IASTI "industry partners" that Bates referred to. Ayslan Anholon, head of flight operations & training, Embraer Services & Support, said at the time IASTI London City opened for business: "We will be supporting IASTI through providing student support, [and] training materials, as well as putting our weight behind the wider programme targets of engaging, educating and training the next generation of aviation professionals. Without question, this will be an exciting chance for many young students who love and dream of the aviation world. We are committed to supporting the creation of these new opportunities in order to meet future aerospace industry needs around the world."
Bates' expression "collaboration before competition" describes, as Witts also maintains, how the industry needs to co-operate to create the talent it needs before competing to employ the system's graduates.