Airbus chief executive Guillaume Faury reiterates that a stretch version of the A220 is a "matter of when not if", but stresses it is not a short-term priority despite "a very strong appetite" in the market.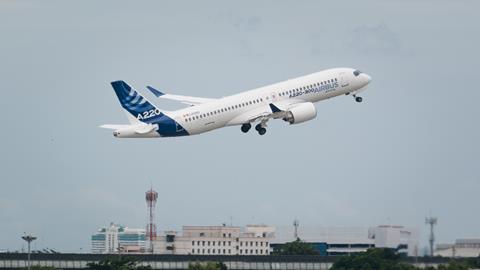 "We have not yet decided to move forward. We have a lot on our plate," he said at Airbus's annual results announcement on 16 February. However, he discloses that the airframer is "looking at different options for architectures and commonalities" with the existing -100 and -300.
"We have not yet crossed that bridge and we have not yet frozen what the [aircraft] would look like," he says.
In September, Faury said a so-called -500 variant, which would seat between 150 and 170 passengers, would help the former Bombardier CSeries family become a "powerful product range".
Airbus has logged around 800 orders for the existing two variants, but the programme has still to break even after Airbus took it over in 2020. The company assembles the aircraft in Mirabel near Montreal and Mobile, Alabama, and plans to ramp up from a monthly rate of six to 14 by mid-decade.
In October 2020, Airbus launched its latest iteration of the A220, the -100-based ACJ TwoTwenty business jet, which uses additional fuel tanks to achieve a range of 5,650nm (10,500km), around twice that of the passenger version.