Wet-lease specialist SmartLynx Malta is branching into long-haul operations with the introduction of Airbus A330s for cargo services – and eventually passenger flights.
SmartLynx has previously exclusively operated single-aisle types but states that it will bring in five A330s over May and June.
The aircraft, acquired through Hong Kong-based lessor CDB Aviation, will be modified to a zero-passenger interior configuration through the removal of seats, and introduction of freight capabilities.
SmartLynx says it has been spurred into expanding the fleet by the sharp increase in long-haul cargo demand.
"It's our strong belief that the pandemic and the current global crisis will create many opportunities for growth and development for our company and the whole industry," says chief executive Zygimantas Surintas.
He says the introduction of modified A330s is a "big step forward" for the company. The initial airframe (9H-SMD) is an A330-300 variant, powered by Rolls-Royce Trent 700s, originally delivered to Singapore Airlines in 2013 and last operated by Spanish carrier Evelop.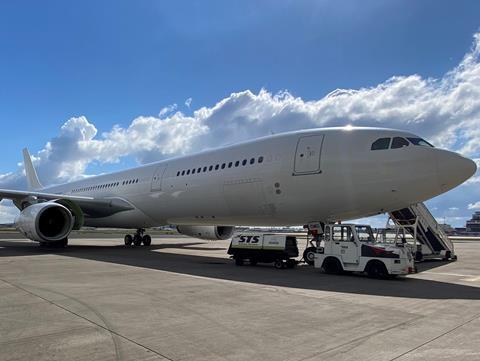 SmartLynx Malta disclosed last year that it was extending its wet-lease services into cargo operations through the inclusion of converted Airbus A321 freighters, and it has also undertaken zero-passenger reconfiguration of A321s within its fleet.
The company says the addition of A330s will support ambitions to become "leaders [in the] long-haul market".
Surintas says that, once the cargo market returns to pre-crisis levels, SmartLynx intends to convert the A330s back to passenger configuration but retain them for long-haul services.
"We believe that our low-cost structure and great efficiency will allow us to create competition to market veterans," he states.
CDB Aviation chief marketing officer Peter Goodman credits SmartLynx with "recognising opportunities" to expand its operations with the incorporation of A330s.