Advanced propulsion developer ZeroAvia says it is still on course for its ZA600 powertrain to enter service in late 2025, ahead of the ramp-up of serial production the following year.
Disclosing the milestones in the annual accounts of its UK subsidiary ZeroAvia Ltd, the company says it is targeting "commercial service [of the ZA600] in 9-19-seat, 300-mile aircraft by the end of 2025".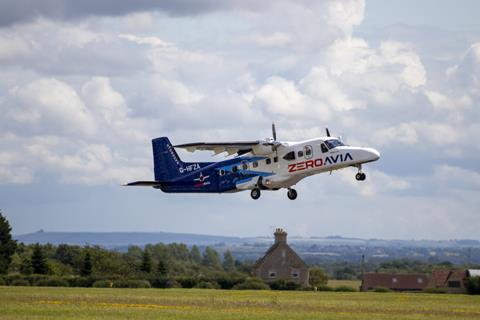 Certification of the 600kW hydrogen fuel-cell powertrain by the UK Civil Aviation Authority is targeted "by the end of 2025" allowing ZeroAvia to "commence manufacturing in 2026, with the first deliveries being made that year".
Speaking at the Regional Airline Association's Leaders Conference in Washington DC earlier this week, ZeroAvia chief executive Val Miftakhov said ZeroAvia is "looking to submit our first variant of the engine for certification in the next couple of months". It will seek initial validation for the powertrain from both the CAA and US Federal Aviation Administration, he says.
ZeroAvia has been flying the ZA600 system aboard a modified Dornier 228 from its UK research and development facility at Kemble airfield in southwest England. An initial test campaign wrapped up on 19 July following the aircraft's 10th flight.
The developer says it has "worked with the CAA in meeting a far more stringent set of requirements under Part 21 [regulations] when compared to the E-Conditions framework ZeroAvia had used for its [previous] prototype in 2020."
Miftakhov praises the company's interaction with the UK regulator. "The aircraft we're flying is under the full flight permits in the UK, which is normally done for pre-production airplanes, or pre-certification airplanes to do market surveys, for example, just before certification. So, really high level of scrutiny.
"We've got regulators very familiar with our technology, lots of subject matter expert engagement there over the last four years in escalating fashion. And these are the exact same people that we'll be working with on certification."
For the year to 31 December 2022, ZeroAvia Ltd – still in its pre-revenue stage - lost £15.3 million ($19 million), up from a £4.2 million loss in the previous 12-month period. Research expenses rose to £7.6 million from £5.3 million a year earlier.
Staff costs also increased to £9.2 million against £3.4 million in 2021, as average employee numbers swelled to 104 from 37.
ZeroAvia Ltd is a wholly owned subsidiary of ZeroAvia Inc, a Delaware-incorporated company with a research base in California.
Additional reporting by Howard Hardee in Washington DC.

Dominic Perry is deputy editor of Flight International but also contributes extensively to flightglobal.com. Although specialising in the coverage of the helicopter industry, he has written on most topics in aerospace – be they commercial, defence or business aviation. In addition, there has been an increasing focus on the decarbonisation of the industry and zero-emission flight initiatives.
View full Profile