Aircraft lessor AerCap has cancelled orders for 15 Boeing 737 Max, becoming the latest Boeing customer to nix orders for the still-grounded jet.
AerCap cancelled the orders in July when it "reached agreement with Boeing to restructure" its 737 Max order book, the Dublin-based lessor says on 29 July.
Including the cancellations, AerCap's backlog of 737 Max on order stands at 80 aircraft, the lessor says.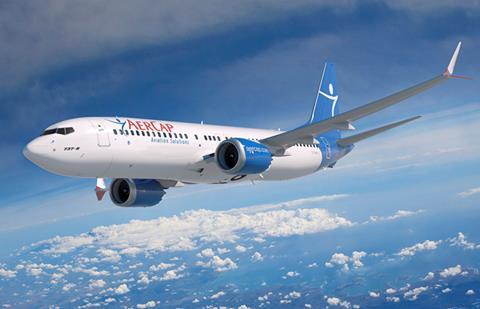 AerCap, which already has five 737 Max in its fleet, notes that some of its customers "have the right to cancel Boeing 737 Max leases".
"We have the right to cancel our corresponding orders for delivery of those aircraft," AerCap says. "These lease cancellations may have an adverse effect on our future cash flows and results of operations."
Boeing and its customers have announced cancellation of nearly 390 737 Max orders this year. Lessors cancelled some 270 of those orders, data shows.