The chief commercial officer of Airbus expects the airframer will indeed develop a larger A220 variant, the only question is when.
Speaking on 4 October during IATA's World Air Transport Summit in Boston, COO Christian Scherer notes that commercial aircraft programmes almost inevitably involve development of multiple variants.
"This is a question of when, not a question of if," Scherer says when asked about a further A220 stretch.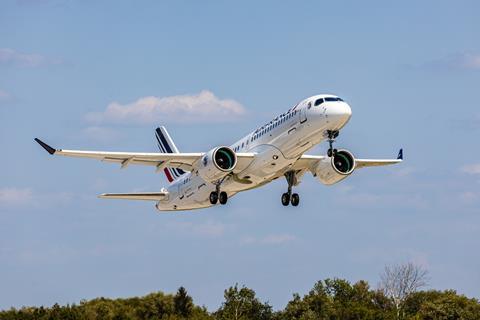 The A220 programme now includes the baseline -100 variant, which carries about 110 seats, and the stretched, 130-seat -300 version.
For years, speculation has abounded that Airbus will develop a larger A220 variant ostensibly known as the "A220-500". Such an aircraft would nip at the heels of Airbus's A319neo and Boeing's 737 Max 7.
"It's a natural thing for an airplane programme to develop a stretch," Scherer says, adding that a decision on the matter is not imminent. "Is it a logical decision, as the programme moves on? Of course it is."
As of the end of August, Airbus held about 643 A220 orders and had delivered 173 of the jets, according to the airframer's most-recent data. Airbus acquired majority control of the A220 programme from Bombardier in 2018. It manufacturers the jet in Montreal and Mobile, Alabama.
At least one major airline executive has expressed interest in buying a larger A220.
"If Airbus builds a series -500, a larger model, a -400, whatever it calls it… We'd be very interested in that airplane," KLM-Air France chief executive Ben Smith said in late 2019.
Air France is a major A220 customer, having ordered 60 A220-300s. It received its first of the jets in September.