Airbus's plan to significantly hike A320neo-family production in the coming years has raised the question of whether the already strained aerospace supply chain is up to the task.
Major engine makers, even while struggling with ongoing parts shortages, have expressed optimism at their ability to meet the ever-higher production goals.
But some aerospace analysts are not so sure, noting that Boeing is also likely to boost rates and that fundamental supply troubles are already holding back production.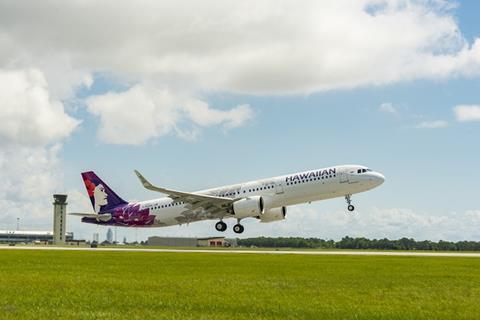 "Can they get there? I think it is going to be very hard… with their existing structure," aerospace consultant Alex Krutz says of Airbus's production goals.
Krutz, managing director at aerospace advisory Patriot Industrial Partners, thinks Airbus may need to develop a more robust US supply network to meet its targets.
On 4 May, the European airframer said it aimed to increase production of A320neo-family jets to 65 per month by summer 2023, and to 75 per month in 2025. Airbus has not disclosed its current A320 production rate but previously said it would produce 45 aircraft monthly by the end of 2021.
Airbus will meet the higher production rates by increasing capacity at its industrial facilities and "growing the industrial footprint" at its US plant in Mobile. Its preparations include ensuring that all the final assembly lines are capable of producing the A321neo, a variant which now makes up almost 60% of the airframer's narrowbody backlog.
At Mobile, Airbus will open a new A320neo-family final assembly line, it announced on 9 May, which will come on stream in the second quarter of 2025. The airframer already builds A320neos and A220s at the site.
Additionally, by the end of 2023 Airbus intends to build a new paint facility in Mobile and to modify its existing hangars to what it calls a "double-bay configuration", to support the higher production rates.
Airbus chief executive Guillaume Faury says analysis of its supply chain supports its decision. "We got feedback that tells us [the rate increase] is possible," he says.
Aerospace analyst Michel Merluzeau says Airbus's "outlook is a little too optimistic," citing supply chain challenges. "It's going to be tough," he says.
In addition, Airbus is not operating in isolation, as Boeing likely intends to raise output of its 737 Max over the coming years.
Though Boeing chief financial officer Brian West recently said the company has "essentially" hit its target of producing 31 737s monthly, reports of production hold ups and supply shortages – including for products like wire bundles – are widespread.
Boeing has not confirmed future 737 Max production levels, but analysts suspect the firm aims to increase output. Merluzeau predicts Boeing will build 447 of the narrowbodies in 2023 (or about 37 monthly), and 570 in 2025 (47.5 monthly).
The two airframers "share the same suppliers," Merluzeau points out. "It creates lots of tension with the ramp-up."
SUPPLY STRIFE
The aerospace supply chain is already straining under inflation and skilled-worker shortages. Companies across the industry laid off staff early in the pandemic and have struggled with rehiring, analysts say.
Engine manufacturers, which require incredibly complex components, have been notably affected.
"There are usually five or seven parts that are always causing fits for the engine makers," Krutz says. "Highly complex, high-temperature, high-tolerance components… will be difficult to scale at volume."
On 26 April, Raytheon Technologies chief executive Greg Hayes said shortages of metal castings prevented subsidiary Pratt & Whitney from delivering 70 engines in the first quarter.
P&W's PW1000-series geared-turbofans, which power A320neos, A220s and Embraer E-Jet E2s, were hardest hit, Hayes says. "We had a problem with our structural casting supplier, where we were not able to get castings in to our… schedule."
Connecticut-based P&W delivered 119 large commercial engines in the first quarter, down from 137 in the same period of 2021.
Still, Hayes says P&W is "in lockstep" with Airbus and its production plans. "We will see if we can get there," he says.
But the problem would seem especially acute for P&W's narrowbody engine rival CFM International: not only does its Leap-1A have a higher share of the A320neo market (as high as 57% where a powerplant selection has been made, or 54% of the delivered fleet), but Leap-1Bs are the exclusive engine on the 737 Max.
Assuming the Leap-1A maintains a 55% share of future Airbus A320neo family deliveries (which is not gauranteed, as no engine selection has been made for 1,902 on-order aircraft), then of the 900 narrowbodies Airbus intends to build each year from 2025 onwards, CFM will need to supply around 990 engines. If Boeing also raises 737 Max output to Merluzeau's predicted level of 570 annually in 2025, CFM would need to produce another 1,140 Leap-1Bs, for an annual combined total of 2,130 engines, or 177.5 engines monthly.
CFM delivered 239 Leap engines in the first three months of 2022, up from 188 in the same period a year earlier, as it ramps to a planned 2,000 shipments in 2023.
Safran, which is a partner in the CFM joint venture alongside GE Aviation, said in late April it had signed off on 2024 delivery volumes with Airbus, but had not addressed those for the following year: "We have an agreement for 2024 and it's too early to speak about 2025," Safran said.
Safran did not address questions about the ability to cope with predicted higher single-aisle rates at both customers simultaneously.
But in February, Safran chief executive Olivier Andries warned that CFM was dealing with "shortages of parts, especially coming from [CFM's] US supply chain".
Of course, it my be unfair to single out engines as a pinch point given that other areas, seating for instance, have been a source of previous production hold-ups, but the complexity of the product – and the vulnerability of the engine manufacturers to their own supply chains – cements their status as a watch item.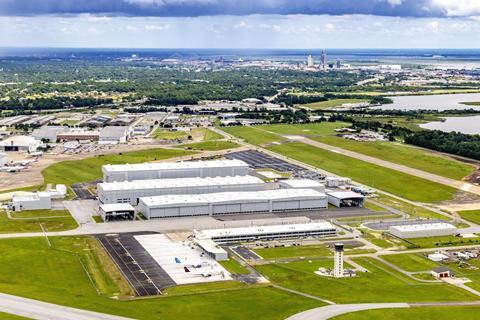 The success of Airbus's expansion plan may not hinge entirely on external suppliers. The airframer is also moving to restructure and reintegrate its French and German aerostructures businesses into the company, having previously toyed with their divestment.
Airbus already created a new entity called Airbus Atlantic, which includes Airbus's Stelia Aerospace business and other Airbus operations in France. An announcement is awaited on what will happen with Airbus's Premium Aerotec business in Germany.
Airbus said the restructuring, which it disclosed in 2021, will strengthen and improve the efficiency of its supply chain.
Whether Airbus might need to tweak its supply model further to support US expansion is unclear, however. The airframer builds A320neos in Mobile using components, including fuselage sections and wings, shipped from its industrial sites in Europe.
Krutz suspects Airbus might chose to source more materials from suppliers near its Mobile site in the southeastern USA – or at least from suppliers elsewhere in North America. Such materials could include large metallic fuselage skins, he says. Doing so might require significant new industrial capacity but would help ensure the stability of the Mobile operation, Krutz says.
"A more robust aerospace supply chain will be developed in the southeast," he suspects.
Boeing employs such a model for its 737, sourcing components from suppliers in the Seattle region and buying complete fuselages from Spirit AeroSystems in Wichita. But Boeing took the global-supply route for its 787 – with high-profile hiccups resulting.
Krutz is not alone in foreseeing a shift toward what he calls "regionalisation".
"The aerospace supply chain is at the dawn of a significant transformation," a November 2021 report from consultancy Roland Berger argues.
Experts say numerous events in recent years have exposed cracks in – and the hidden costs of – the global supply chain model.
For instance, the Covid-19 pandemic demonstrated that one country's decision to close its borders can disrupt production on the other side of the globe; trade disputes and tariffs have also affected the aerospace industry; and Russia's invasion of Ukraine caused a ripple of problems – pushing shipping costs higher and disrupting transport links, plus triggering shortages of titanium on the global market.
Roland Berger's report says geopolitical stress and the pressure to cut carbon "justify" the transition to an increasingly "local" aerospace supply chain.