Air India is to conduct operations with pilot-controlled tow tractors for Airbus A320 manoeuvring at Delhi and Bengaluru airports, as part of a strategy to reduce emissions.
The airline had publicly demonstrated the system – known as Taxibot – nearly four years ago, using an A321 (VT-PPH) during a commercial service from Delhi in October 2019.
But the carrier says it has agreed with local airport technology consultancy KSU Aviation, which promotes the Taxibot capability, to use the equipment for taxiing operations.
It believes using the towbarless vehicles, which the pilot controls as if using the nose-gear, will save up to 15,000t of fuel over the course of three years.
"Air India is constantly looking for ways to improve sustainability and manage our carbon footprint," says chief executive Campbell Wilson.
"Deployment of TaxiBots is one more example of our commitment to reduce emissions and fuel consumption."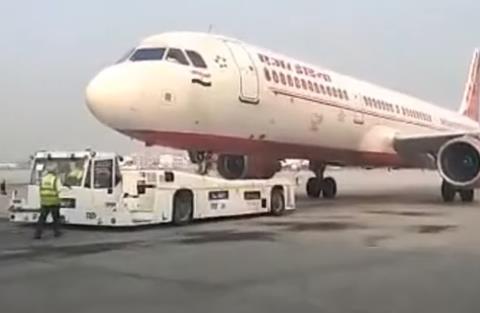 Wilson adds that the co-operation will enable the carrier to "better assess" the capabilities of the taxiing system, with a view to expanding operations to other airports and Air India divisions.
"Air India is undergoing a massive transformation and has adopted sustainable practices," says KSU Aviation director Ashwani Khanna.
"We are committed to partner with like-minded organisations like Air India to leverage modern day technology in reducing carbon footprint and accelerate the pursuit of being net-zero."
Taxibot was originally developed by Israel Aerospace Industries, in collaboration with ground-support equipment specialist TLD.