Airbus has secured an order for four A330-800s, disclosing a rare agreement for the twinjet variant in its latest backlog revision.
The airframer has not identified the customer for the Rolls-Royce Trent 7000-powered aircraft, the smaller of the two-member A330neo family.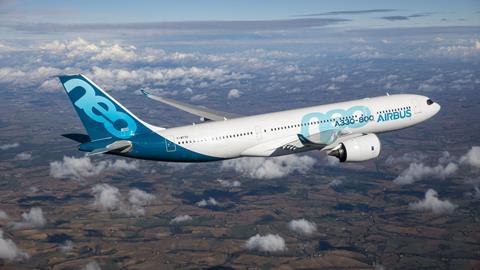 But the agreement takes the number of A330-800s on order from 10 to 14.
While the customer is undisclosed, Garuda Indonesia quietly agreed a tentative deal for four -800s earlier this year.
Disclosed customers for the aircraft include Kuwait Airways, which is taking eight, and Uganda Airlines for two.
Airbus has formally logged Emirates' deal for 50 A350-900s, Cebu Pacific's 16 A330-900s and lessor Avolon's additional 10 A330-900s.
It has also recorded Air Arabia's order for 120 single-aisle jets, comprising 73 A320neos and 47 A321neos, as well as Saudi carrier Flynas's 10 A321neos and EasyJet's 12 additional A320neos.
Emirates' cancellation of 39 more A380s, parallel to the A350 agreement, leaves it with its previous commitment to 123 of the type – of which 10 have still to be delivered.
Airbus's activity takes its overall net orders for the first 11 months of this year to 718.
With one month remaining to the end of the year, the airframer has delivered a total of 725 aircraft. It has been aiming for a revised delivery total of 860 jets.