British Airways has unveiled the initial route network for its new London Gatwick short-haul operation, on which the carrier will commence services in March next year.
The new subsidiary has yet to receive its air operator's certificate and British Airways will serve the network with its mainline operation until the subsidiary takes over later in 2022.
It will initially have three Airbus A320-family jets and increase the fleet to 18 by the end of May.
British Airways has confirmed that the new division will trade under the name 'BA Euroflyer' – which, it says, it consisted with its London City-based BA CityFlyer operation – although British Airways will remain as the visible brand.
"Creation of a new British Airways short-haul organisation means Gatwick customers will benefit from access to a premium service from the UK's flag carrier at competitive prices," says British Airways chief Sean Doyle.
"We are looking forward to bringing a short-haul network back to Gatwick, with a fantastic flying team in place, to serve our customers from London's second hub airport, which we feel sure will be a success."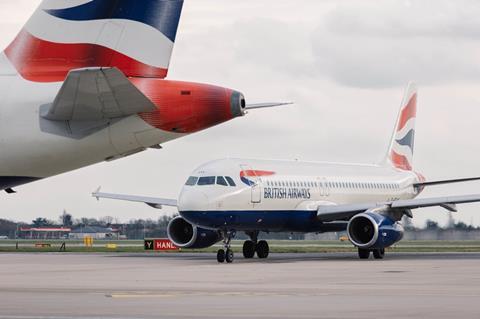 The network primarily covers Mediterranean leisure destinations, although it also includes cities such as Amsterdam, Madrid, Milan, Turin, Berlin and Athens.
Thirteen routes will open at the end of March: Amsterdam, Larnaca and Paphos, Seville, Tenerife, Verona, Lanzarote, Faro, Malta, Catania, Malaga, Nice and Marrakech.
Most of the network will emerge over the course of April as the fleet increases – with routes to Alicante, Antalya, Las Palmas, Bari, Dubrovnik, Turin, Ibiza, Palma de Mallorca, Berlin, Venice, Menorca, Madrid, Thessaloniki, Bordeaux, Milan Malpensa, Santorini, Cagliari, Dalaman, Heraklion, Kos and Rhodes – with Athens starting in the first week of May.
British Airways suspended flights from Gatwick in early 2020, following the outbreak of the pandemic, and shifted a number of routes to London Heathrow.
Although some of these routes will be transferred back to Gatwick, the carrier says it aims to maintain a number of them – including Faro, Ibiza, Malaga, Marrakech and Tenerife – at Heathrow to "give customers choice".