A British Airways Boeing 747-400 benefited from the powerful transatlantic jetstream created by Storm Ciara to set a new subsonic speed record for a New York-London flight.
The 22-year-old 747 (G-CIVP), operating flight BA112 on 8/9 February, completed the sector from New York John F Kennedy airport to London Heathrow in 4h 56min, according to tracking service Flightradar 24 (below). This sector time was some 1h 20min faster than scheduled for the route.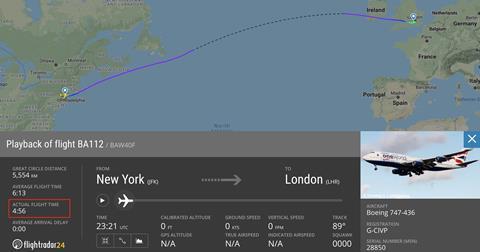 The previous subsonic record of 5h 13min was set by a Norwegian Boeing 787-9 in January 2018, operating between New York JFK and London Gatwick.
The powerful jetstream resulted in a number of fast flights on 8/9 February. A Virgin Atlantic Airbus A350-1000 (G-VPOP) was only 1min slower than the BA 747-400, operating flight VS4. However, the airline pointed out that while it was "narrowly beaten", the 747 had "twice the [number] of engines and burnt twice as much fuel" as the A350 twinjet.
The fastest-ever crossing between New York and London was flown by a British Airways Concorde (G-BOAD) on 7 February 1996, when it completed the sector in a record 2h 52min and 59s. The supersonic airliner had a cruise speed of Mach 2, equivalent to 1,350mph.