UK budget carrier EasyJet is expecting to fly no more than 20% of planned capacity during the first quarter of 2020-21, owing to continuing restrictions in its markets.
It outlined the forecast as it turned in a full-year pre-tax loss of £1.27 billion ($1.68 billion).
The airline says it is focused on "cash-generative flying" over the winter season, in order to minimise losses over the first half, which runs to 31 March 2021.
"We retain the flexibility to rapidly ramp up when demand returns," says chief executive Johan Lundgren, insisting that underlying demand from customers is "strong".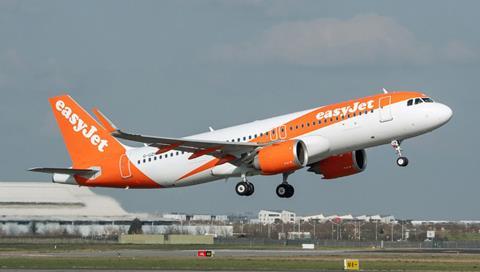 Lundgren states that EasyJet has "withstood the impact" of the pandemic, and has an "unparalleled foundation" on which to "emerge strongly" from the crisis.
Passenger numbers for the year ending 30 September 2020 halve to 48.1 million and EasyJet slashed capacity by 47.5%, although overall load factor slipped by just 4.3 points to 87.2%.
But the economic impact has been substantial, with revenues more than halving to £3 billion. The airline's headline loss before tax of £835 million is within its guided range of £815-845 million.
It incurred £438 million in non-headline costs, including a £37 million impairment on the fleet resulting from its placing 34 aircraft into storage until the end of their lease term, plus a £38 million gain on sale-and-leaseback of 33 aircraft during the year.
The aircraft involved in these sale-and-leasebacks comprised seven Airbus A321s, nine A320s and 17 A319s.
EasyJet also recorded a £123 million charge relating to restructuring and a £311 million impact from discontinued hedges and fair-value adjustments.
EasyJet's board is, unsurprisingly, not recommending a dividend payment and – beyond stating that capital expenditure over 2020-21 will be around £600 million – the carrier is not giving any detailed financial forecast for the current fiscal year.