Emirates Group had returned 73 Airbus A380s to service, along with its entire Boeing 777 fleet, by the end of the first half – a period in which it generated a net profit of Dhs4.2 billion ($1.1 billion).
The financial performance contrasts with the Dhs5.7 billion net loss from the same six months last year.
Group revenues increased to Dhs56.3 billion, the Dubai-based company has disclosed, and it expects to be profitable for the full year.
Emirates Group chief Sheikh Ahmed bin Saeed Al-Maktoum says the performance is the result of "forward planning" and an "agile business response", as strong demand for air transport emerged following the easing of pandemic-related curbs.
"Our operations recovery accelerated as more countries eased and removed travel restrictions," he states.
"For the coming months, we remain focused on restoring our operations to pre-pandemic levels and recruiting the right skills for our current and future requirements."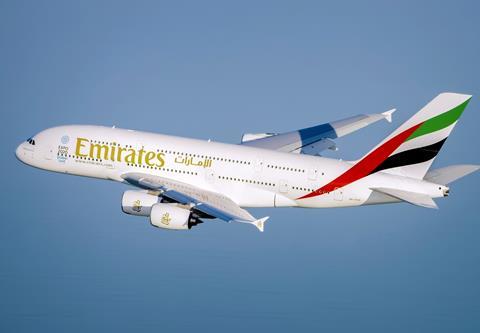 But while Emirates expects demand will remain strong, it is expressing caution over inflation, exchange rates with the US dollar, and "fiscal policies of major markets."
Emirates, the group's central airline, received two new Boeing 777 freighters over the first half and withdrew an older freighter airframe.
It has undertaken a programme to refit cabins in 120 aircraft as it expects new jets will not arrive until 2024.
The airline transported 20 million passengers over the six months to 30 September, and generated a profit of Dhs4 billion.
Ground-handling operation Dnata increased its profit to Dhs236 million, compared with the previous figure of Dhs85 million, as revenues doubled to Dhs7.3 billion.