Etihad Airways has added three new airlines to its interline partnership programme and enhanced links with existing partners, a move it says was facilitated to its switch to the Amadeus Altea passenger service system.
The Abu Dhabi-based carrier announced earlier this month that it had completed its transition to the Amadeus PSS. Etihad signed a multi-year deal with Amadeus in September 2021, after previously using Sabre's PSS.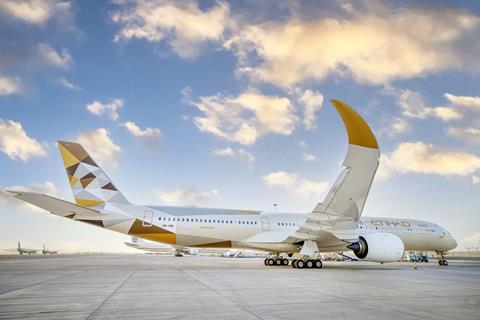 "Amadeus provides us with the tools we need to continue enhancing our guest experience and improving our operations into the future," says Etihad chief executive Antonoaldo Neves. "It will mean further upgrading the digital experience we offer our customers when booking online through Etihad.com or using our mobile app and self-service tools, giving them greater control and flexibility in managing their journey."
Following the transition, Etihad has signed reciprocal interline agreements with three new airline partners – Philippine Airlines, Austrian Airlines and Airlink South Africa – and has re-launched interline links with Biman Bangladesh. It has also restored codeshare links with Air Seychelles and Italy's ITA Airways. Etihad was previously a strategic investor and partner of Air Seychelles and ITA predecessor Alitalia under its previous equity-alliance partnership strategy.
"Our links with Biman and Air Seychelles were affected by those airlines' own system migrations over the last 12 months, so we're pleased to re-connect with them to complement our own Dhaka and Mahe services and offer further destinations, such as Chittagong and Praslin," says Etihad chief revenue officer Arik De. Etihad's partnership with ITA on Rome Fiumicino flights has been restored following the Italian carrier's own migration to Amadeus Altea in February.
Etihad's new interline deal with Austrian covers up to 58 European destinations via Vienna. Its partnership with PAL links Etihad's Manila service with 19 domestic destinations in the Philippines, while the agreement with Airlink South Africa provides access to 16 domestic South African routes and 25 regional African destinations, via Johannesburg.