Garuda Indonesia has offered to replace current liabilities with $1.13 billion in new bonds and equity.
This would see creditors such as lessors and other vendors take a significant haircut on what the beleaguered carrier owes them, according to a Reuters report citing bankruptcy court documents.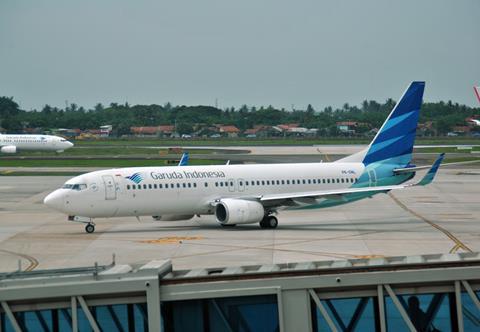 The amount involves $800 million in fresh bonds and $330 million in shares.
Reuters cites a claims list as stating that lessors are the carrier's biggest creditors, owed INR82.7 trillion ($5.68 billion). This is 70% of total liabilities of INR121 trillion.
Garuda also defaulted on $500 million in Islamic bonds in June 2021.
Garuda is currently undergoing a drawn-out restructuring exercise to reduce debt and restructure its fleet.
Cirium fleets data suggests that Garuda has 43 aircraft in service, of which 25 are Boeing 737-800s, and 73 aircraft in storage.
FlightGlobal has reached out to Garuda for comment.