Ireland's civil aviation regulator has granted an air operator's certificate to start-up Emerald Airlines, the carrier set to take over as an Aer Lingus regional franchise partner.
Emerald Airlines conducted an ATR 72-600 proving flight on 3 September – operating from Dublin to Cork – and the aircraft (EI-GPP) has since been transferred to Exeter.
"We are now able to progress towards the launch of scheduled services, which will be rolled out progressively as our aircraft are delivered and market conditions allow," says Emerald chief Conor McCarthy.
"We will be working very closely with Aer Lingus on this now that we have our AOC in place."
The new airline will use the callsign 'Gemstone'.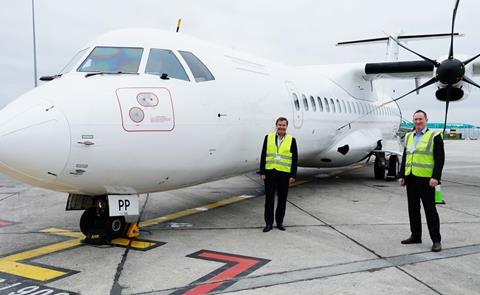 Aer Lingus had been using Stobart Air as a franchise operator for regional services but had negotiated a switch to Emerald from 2023.
Stobart Air collapsed earlier this year, after an acquisition plan failed, and discussions have taken place to bring forward the introduction of Emerald services for the Irish flag-carrier.
The aircraft used for the proving flight was originally delivered to Flybe in 2016, and flew on behalf of SAS, before becoming part of the Stobart Air fleet.
"Establishing a new airline and achieving all the necessary safety and licensing approvals is a huge achievement at any time," says Irish Aviation Authority regulator Diarmuid O Conghaile.
"It is particularly challenging in the current pandemic circumstances."
O Conghaile says the establishment of Emerald is a "big lift" for the country's aviation sector, adding: "This development demonstrates the flexibility and the potential of the industry here."