The lack of scientific clarity on the impact of non-CO2 effects is a risk for commercial aviation as it seeks to address its environmental footprint, according to speakers at the Aviation Carbon 2022 conference in London on 17 October.
Citing the now widely adopted target for commercial aviation to reach net-zero CO2 emissions by 2050 – which was rubber-stamped at a governmental level during the recent ICAO assembly via agreement on a long-term aspirational goal (LTAG) – speakers cautioned that factors such as nitrogen oxides (NOx) and contrails might eventually draw more focus, should scientists suggest with confidence that they have a significant warming impact.
"When we look at these [net-zero] roadmaps we're mostly focusing on the CO2 effect and largely leaving out the non-CO2 effects," says Siyi Hao, a sustainable aviation specialist at consultancy Roland Berger.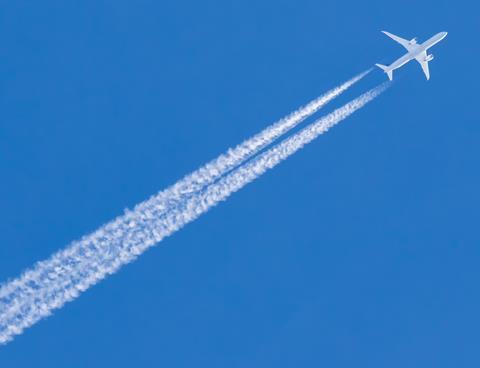 He describes this as a "potential risk for our planning", despite there being good reason for the lack of commitment on the issue so far, given that "we don't really have a perfect scientific understanding of it". That is because achieving better scientific understanding might heighten the sustainability hurdles for aviation.
"We speak to the leading academics in the world, and our understanding so far is that when we take into consideration all the non-CO2 effects and look at the global warming potential of aviation… it could get as high as three times CO2 alone," Hao suggests.
Tim Johnson, director of UK-based NGO the Aviation Environment Federation, reminded delegates at the conference that the Paris Agreement created a goal around limiting the rise in global temperatures – of which CO2 emissions are just one contributing factor when it comes to aviation.
Johnson says that during the recent ICAO assembly, his federation was sufficiently concerned to argue, unsuccessfully, that the UN body should launch a process aimed at assessing non-CO2 effects ahead of its next gathering.
"We didn't necessarily want [the LTAG] to recognise non-CO2, but it is really clear that Paris is a temperature-based goal and that non-CO2 impacts from aviation have temperature implications," Johnson says.
"Between now and 2050, we have to figure that out."
Regarding specific factors, Hao notes that NOx has a "significantly higher global warming potential compared to CO2", but that it does not linger in the air for as long.
He further describes contrails as a "very strange animal" that can have a warming or cooling effect depending on a number of factors.
Ultimately, "the science is still far from perfect" on non-CO2 effects, Hao says.
Indeed, among the challenges in countering non-CO2 effects from aviation, studies have pointed out that doing so often involves increased fuel useage – and therefore higher CO2 emissions.
Some studies suggest that the use of sustainable aviation fuels could reduce NOx emissions versus conventional jet fuel, but that transformational reductions in non-CO2 effects are most likely to be achieved with electric propulsion or the use of hydrogen fuel cells.
Aircraft engines that burn conventional jet fuel are known to emit CO2, NOx, water vapour, hydrocarbons, carbon monoxide, sulphur gases, and soot and metal particles.