Russian budget carrier Pobeda has received the first Boeing 737-800 to be transferred to the operator under Aeroflot Group's broad fleet restructuring programme.
Aeroflot Group is re-aligning the fleets of Aeroflot, and subsidiaries Rossiya and Pobeda, as part of a strategic rethink on capacity allocation within its various markets.
This includes moving a batch of Aeroflot 737s to the budget carrier and Sukhoi Superjets to Rossiya.
Pobeda has taken over aircraft VQ-BHU which was originally delivered to Aeroflot towards the end of 2018.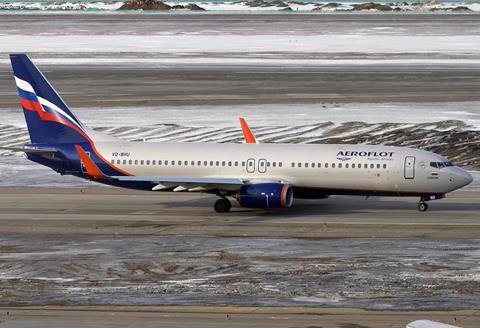 It takes the Pobeda fleet to 35 jets. The aircraft has been reconfigured with an all-economy layout of 189 seats and undergone painting at Ostrava.
Pobeda says it will introduce another nine 737-800s through the restructuring process this year, and a total of 50 will be transferred by the end of 2023.
The new aircraft will initially operate regional routes before being stationed at Moscow Sheremetyevo from May.
Pobeda says that, under the "optimisation" of the Aeroflot Group fleet, it will be tasked with driving passenger growth, serving as a feeder and taking over points on the Aeroflot network where yields are lower.