IAG chief Luis Gallego hopes the operational situation at London Heathrow will improve by the end of the year, but stresses that multiple parties need to co-operate to increase resilience at the hub.
Speaking during IAG's second-quarter briefing, Gallego said that punctuality figures show there are still days where "we cannot cope with the volume".
"I think it's not only us, there's a combination of actors in the eco-system," he says.
British Airways is Heathrow's main operator and chief executive Sean Doyle pointed out that personnel recruitment remains an issue, with average overall referencing time still over 100 days – although BA has cut this to 40 days with a new in-house referencing capability.
Doyle says the airline has received close to 60,000 applications since the beginning of the year, a "very encouraging" figure. The company wants 7,000 personnel in place by the end of December, and Doyle says the rate at which the carrier is bringing staff into the operation is improving month by month.
He states that the labour market is "tight" and, along with the processing times, there is an "experience lag" among staff at the airport.
But attrition is falling and recruitment is "picking up", he says, and the situation is improving even if operations are "not at the level we'd like them to be".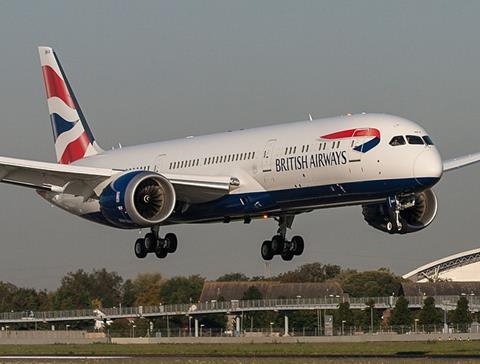 Some 18% of BA flights for May-October, accounting for 13% of capacity, have been cut through various initiatives to reduce summer pressure at Heathrow.
The airline had acted pre-emptively to remove 10% of its flight schedule for the period – some 16,000 services of which 85% were short-haul. Another pre-emptive reduction took place in June with a further 1,900 flights axed, mainly for July.
The UK government's slot amnesty in July affected another 7% of flights – about 2% of capacity.
As a result Heathrow's subsequently-imposed cap of 100,000 passengers, designed to alleviate inadequate ground-handling and security provision to carriers, had "limited impact" on BA, says Gallego, because the carrier had previously taken steps to address the problem.
Gallego says IAG has acted to "protect customers", stripping out capacity from routes where it had the maximum ability to re-accommodate passengers, either because of frequency or the ability to shift services to partner carriers – such as the transfer of Miami flights to American Airlines.